Polyesters obtained from bio-derived monomers are often used as building blocks with the ultimate aim of meeting consumer demands for high-performance and sustainable materials. To this end, Reineke, Tolman, and Lillie sought to establish how changing the ratio of the sustainable D-glucaro-1,4:6,3-dilactone containing α, ω-diene (GDLU) and isosorbide undecanoate (IU) may influence the thermal, chemical and mechanical properties of the acyclic diene metathesis (ADMET)-derived polymers. The authors synthesized a series of random copolymers consisting of a range of GDLU and IU compositions and fully characterized them by uniaxial tensile testing, small-amplitude oscillatory shear rheology, X-ray scattering, and hydrolytic degradation testing.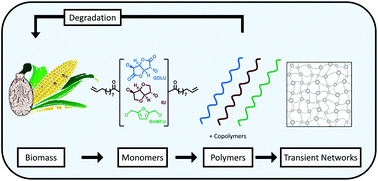 It was found that small compositional changes have a detrimental impact on their mechanical performance and degradability. In addition, the authors investigated which carbohydrate-based building block was most important in promoting the elasticity and shape-memory abilities of this class of materials. To address this issue, GDL or isosorbide were replaced with a different sustainable diol, 2,5-bis(hydroxymethyl) furan. Studies of the resulting copolymers indicated that GDLU is responsible for imparting both elasticity and shape memory properties. Further, more economical and environmentally-friendly routes for the synthesis of GDLU and IU feedstocks were also explored.
Tips/comments directly from the authors:
Acetonitrile appears to be the essential solvent for the scandium triflate-catalyzed esterification of GDL with 10-undecenoic acid anhydride.
10-Undecenoic acid anhydride can rapidly degrade on wet silica gel. To prevent this, oven dry (120 °C) the silica gel prior to its use and minimize the excess 10-undecenoic acid anhydride used in the reaction.
Due to the hydrolytic instability of GDL and GDL-containing polymers, they should be stored in a vacuum desiccator to protected from moisture to prevent degradation between uses.
Read this exciting research for free until 13/08/2017 through a registered RSC account.
Structure/property relationships in copolymers comprising renewable isosorbide, glucarodilactone, and 2,5-bis(hydroxymethyl)furan subunits
Polym. Chem., 2017, 8, 3746-3754, DOI: 10.1039/c7py00575j
—————-
About the webwriter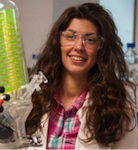 Dr. Athina Anastasaki is a web writer for Polymer Chemistry. She is currently a Global Marie Curie Fellow working alongside Professor Craig Hawker at the University of California, Santa Barbara (UCSB). Please visit this website for more