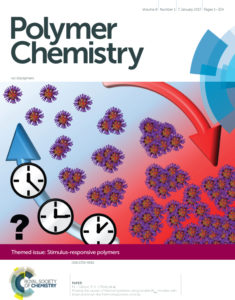 Issue 1 of volume 8 of Polymer Chemistry is a themed issue on stimulus-responsive polymers, guest edited by Peter J. Roth (University of Surrey, UK) and Andrew B. Lowe (Curtin University, Australia). 
Stimulus-responsive, or "smart", (co)polymers are fundamental to broad, and ever-growing, fields of research that encompass phase behaviour of unimer solutions, smart nanoparticles, and intelligent bulk materials with shape memory or self-healing abilities. In recent years, (co)polymers have been developed that respond to a fascinating range of chemical, physical, and mechanical stimulation and have been crafted into materials serving a multitude of applications. This special issue of Polymer Chemistry dedicated to stimulus-responsive polymers features articles on the cutting-edge development of novel "smart" materials, as well as up-to-date and in-depth reviews covering a range of specialist areas.
Check out the Editorial by the Guest Editors here.
A few articles from the themed issue are highlighted below
Is biopolymer hair a multi-responsive smart material?
Xueliang Xiao, Jinlian Hu, Xiaoting Gui, Jing Lu and Hongsheng Luo 
Field responsive materials: photo-, electro-, magnetic- and ultrasound-sensitive polymers
Theodore Manouras and Maria Vamvakaki
Self-healing of glucose-modified polyurethane networks facilitated by damage-induced primary amines
Ying Yang and Marek W. Urban