The ability to modify surfaces with polymers has been readily exploited to alter various surface properties, such as wettability, biocompatibility and chemical functionality. Covalently-bound polymer-grafted surfaces can be prepared either through a "grafting-from" or "grafting-to" approach.
"Grafting-from" entails the modification of the surface, followed by polymerisation of monomer units from the modified surface. "Grafting-to" is achieved when a pre-formed polymer chain is coupled to a functional surface. Various surfaces have been investigated for polymer grafting, both planar surfaces and 3D morphologies such as nanoparticles.
This month we take a look at three articles, published in Polymer Chemistry, which report polymer-grafted surfaces, via surface-initiated "grafting-from"  polymerisations in all cases, and in one article the authors have compared the "grafting-from" approach to "grafting-to". In each report the properties of the respective substrates have been dramatically altered by the polymer grafting.
Yang Zheng, Yucheng Huang, Zaid M. Abbas, Brian C. Benicewicz
Polym. Chem., 2016, 7, 5347-5350; DOI: 10.1039/C6PY01319H
SiO2 nanoparticles were utilized for the grafting of PHEMA and PBzMA by RAFT polymerisation. The PHEMA/PBzMA grafted SiO2 nanoparticles were prepared through first, growing PHEMA chains from the surface, subsequent immobilisation of more RAFT agent onto the SiO2 surface, then polymerisation of BzMA. The grafted nanoparticles were observed to self-assemble, which was proposed to be due to phase separation of the two blocks and hydrophobic interactions between PBzMA domains.
Pei-Xi Wang, Yi-Shi Dong, Xiao-Wen Lu, Jun Du, Zhao-Qiang Wu
Polym. Chem., 2016, 7, 5563-5570; DOI: 10.1039/C6PY01223J
A dopa-functional photoiniferter was used to polymerise NiPAAm, DMAEMA and NVP by UV photopolymerisation. These pre-formed polymers were subsequently grafted-to a titanium surface through the dopa groups. Comparatively, a gold surface was functionalised with the dopa photoiniferter followed by polymerisation from the surface (grafting-from). In each case grafting was confirmed by XPS and contact angle measurements, showing efficient functionalisation of the substrates.
Polym. Chem., 2016, 7, 5664-5670; DOI: 10.1039/C6PY00977H
Polyacetylene based ladder-like polymer brushes were grafted-from gold surfaces and investigated for their long-term stability and conductivity. The doped conjugated polyacetylene was less susceptible to degradation/oxidation when supported by another chain. The stability was improved when the surface grafting density was higher and the conductivity was only reduced by 1 order of magnitude after storage in air at room temperature for 6 months.
—————-
About the webwriter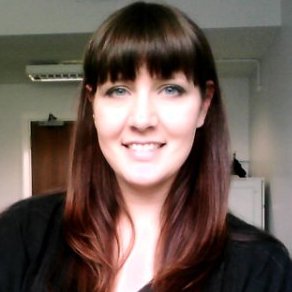 Dr. Fiona Hatton is a web writer for Polymer Chemistry. She is currently a postdoctoral researcher in the Armes group at the University of Sheffield, UK. Find her on Twitter: @fi_hat