Dendrimers are perfectly symmetrical macromolecules, which exhibit interesting properties relative to their linear analogues, such as low intrinsic viscosities and high surface functionalities. Research into the applications of dendrimers has perhaps mainly focussed on biomedical applications, such as drug delivery and diagnostics, but also includes solar cells, catalysis and electrochemical sensors.
Dendrimers have proven to be extremely interesting macromolecules, which has sparked research into structurally similar dendritic polymers. Whilst dendritic polymers do not possess the perfect dendrimer branched structure, they can be easier to prepare and still maintain most of the positive dendrimer attributes, such as high surface functionality.
This month we take a look at 3 articles which focus on dendrimers and dendritic polymers published in Polymer Chemistry, where structure-property relationships were investigated and functional materials were prepared, including photoactive fluorescent dendrimers and cross-linkable dendrimers for electronic applications.


1. Hydrodynamic behaviors of amphiphilic dendritic polymers with different degrees of amidation
Cuiyun Zhang, Cong Yu, Yuyuan Lu, Hongfei Li, Yu Chen, Hong Huo, Ian William Hamley, Shichun Jiang
Polym. Chem., 2016, 7, 3126-3133; DOI: 10.1039/C6PY00394J
The authors have investigated and determined the hydrodynamic radii and intrinsic viscosities of a range of amphiphilic dendritic polymers consisting of a hydrophilic polyethyleneimine dendritic core and hydrophobic palmitite tails at the surface. It was found that the degree of amidation affected these properties significantly, and that the dendritic polymers were more compact than their linear analogues.


2. Aggregation enhanced excimer emission (AEEE) with efficient blue emission based on pyrene dendrimers
Alaa S. Abd-El-Aziz, Amani A. Abdelghani, Brian D. Wagner, Elsayed M. Abdelrehim
Polym. Chem., 2016, 7, 3277-3299; DOI: 10.1039/C6PY00443A
Three generations of novel fluorescent organoiron dendrimers were prepared and the dendrimer surfaces were functionalised with pyrene moeities bearing different lengths of alkyl chains. The resultant iron-containing dendrimers were investigated for their electrochemical properties. The demetalated analogues exhibited aggregation enhanced excimer emission, when using solvent mixtures of water and THF, highlighting potential in photoactive dendrimer applications.


3. Dendrimeric organosiloxane with thermopolymerizable –OCF=CF2 groups as the arms: synthesis and transformation to the polymer with both ultra-low k and low water uptake
Jiajia Wang, Kaikai Jin, Jing Sun, Qiang Fang
Polym. Chem., 2016, 7, 3378-3382; DOI: 10.1039/C6PY00576D
A novel dendrimeric macromolecule was synthesised, comprising a cyclic siloxane at the core and aryl-trifluorovinyl-ether units as the arms. The resulting dendrimeric macromolecule was easily cross-linked through thermal induced reaction. The transparent cross-linked network showed good thermal stability, ultra-low dielectric constant and low water uptake. This material utilises an industrially applicable cross-linking reaction, with several potential applications in the electronics industry.


—————-
About the webwriter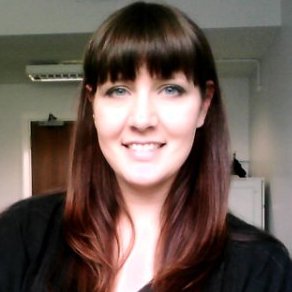 Dr. Fiona Hatton is a web writer for Polymer Chemistry. She is currently a postdoctoral researcher in the Armes group at the University of Sheffield, UK. Find her on Twitter: @fi_hat