This month the "focus" is on polymeric nanomaterials which have been investigated for their applicability as drug delivery devices. The use of polymers in biomedical applications, specifically drug delivery, has markedly increased over the past decades with the advancement in polymerisation techniques. More precise synthetic methodologies have allowed for a higher degree of control over polymer compositions and architectures, therefore, expanding the polymer chemist's toolbox. Drug delivery vehicles based on polymers aim to overcome problems with hydrophobic drug administration such as low bioavailability and/or rapid clearance, poor solubility and high off target toxicity. They usually should be biocompatible, achieve high drug loading efficiencies, show biodegradability and in some cases include site specific targeted drug delivery and/or sustained release of the bioactive compound(s). Perhaps unsurprisingly, PEG has been used in each report as it is well-known for giving stabilization and "stealth" properties to nanomaterials in the body. However, the variety of polymer architectures and core compositions employed in these reports alone highlights the diversity arising when investigated polymeric materials for drug delivery.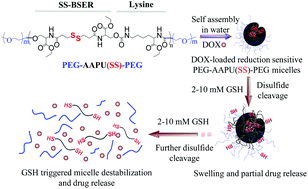 1. Biocompatible and bioreducible micelles fabricated from novel α-amino acid-based poly(disulfide urethane)s: design, synthesis and triggered doxorubicin release, Wentao Lu, Xiuxiu Wang, Ru Cheng, Chao Deng, Fenghua Meng and Zhiyuan Zhong, Polym. Chem., 2015, 6, 6001-6010.
Through the design of reductively biodegradable amino acid based poly(disulfide urethane)s (AAPU(SS)s), ABA triblock copolymers consisting of PEG-AAPU(SS)-PEG were prepared which formed micelles. Doxorubicin was encapsulated in the core of the micelles and an increase in drug release was observed in a reductive environment. Cell viability studies showed that the drug loaded micelles reduced cell viability and cell internalisation was investigated.
2. Amphiphilic core cross-linked star polymers as water-soluble, biocompatible and biodegradable unimolecular carriers for hydrophobic drugs, D. Gu, K. Ladewig, M. Klimak, D. Haylock, K. M. McLean, A. J. O'Connor and G. G. Qiao, Polym. Chem., 2015, 6, 6475-6487.
Unimolecular core cross-linked stars (CCS) were prepared by the ring opening polymerisation of caprolactone and a crosslinker utilizing a PEG macroinitiator. The formation of CCS with varying contents was investigated and a hydrophobic drug, pirarubicin, was encapsulated and release of the drug was studied at different pH. Cytotoxicity and cellular uptake tests showed that the materials exhibited low toxicities, while drug loaded CCS polymers were similar to the free drug.
3. A biodegradable and fluorescent nanovehicle with enhanced selective uptake by tumor cells, Jinxia An, Xiaomei Dai, Yu Zhao, Qianqian Guo, Zhongming Wu, Xinge Zhang and Chaoxing Li, Polym. Chem., 2015, 6, 6529-6542.
A PEGylated core cross-linked polymeric nanovehicle was prepared via RAFT, which contained reduction- and pH-dependent degradable moieties and fluorescence imaging functionalities in the core. Due to the fluorescence imaging functionality the cell internalization pathway into HEPG2 cells was investigated by cellular uptake and competition inhibition assays. Drug loaded nanovehicles were shown to inhibit cancer cell proliferation.
---
Dr. Fiona Hatton is a Web Writer for Polymer Chemistry. She is currently a postdoctoral researcher at KTH Royal Institute of Technology, Sweden, having completed her PhD in the Rannard group at the University of Liverpool, UK. Visit her webpage for more information.