We are delighted to welcome our newest Polymer Chemistry Associate Editor: Emily Pentzer (Case Western Reserve University, USA).
Emily will start her role as Associate Editor on 1 July 2015.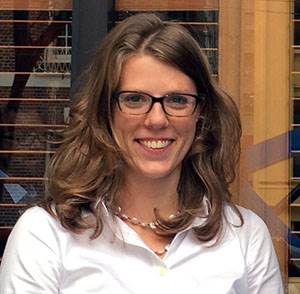 Emily obtained a Bachelor of Science in Chemistry from Butler University, USA in 2005. She then moved to Northwestern University, USA where she completed her PhD in 2010 under the supervision of Professor SonBinh T. Nguyen working on the development of new monomers for ring-opening metathesis polymerisation. Between 2010 and 2013 she was a postdoctoral researcher at the University of Massachusetts Amherst, USA where she investigated the synthesis and assembly of n-type and p-type materials for organic photovoltaic applications, supervised by Professor Todd Emrick in the Department of Polymer Science and Engineering. Since July 2013, Emily has been at Case Western Reserve University, USA as an Assistant Professor of Chemistry. Her research addresses application-based materials problems in the areas of energy harvesting, management, and storage. She uses synthetic chemistry to tailor molecular design and control self-assembly for the preparation and study of novel conductive materials with controlled domain sizes and interfaces.
To find out more about Emily's research take a look at her group's website.
As a Polymer Chemistry Associate Editor, Emily will be handling submissions to the journal. Why not submit your next paper to her Editorial Office?