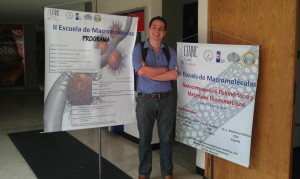 Dr. Andreas Walther graduated from Bayreuth University in Germany in 2008 with a PhD focusing on the self-assembly behaviour and applications of Janus particles and other soft, complex colloids. After a postdoctoral stay with a focus on biomimetic hybrid materials at Aalto University (Helsinki, Finland), he returned to Germany and established his independent research group at the DWI – Leibniz Institute for Interactive Materials in Aachen. His research interests concentrate on developing and understanding hierarchical self-assembly concepts inside and outside equilibrium, and on utilising and connecting such processes to soft materials research – often following bioinspired design principles. Andreas has published more than 90 papers and has recently been awarded the Bayer Early Excellence in Science Award (for Materials) and the Reimund Stadler Young Investigator Award of the German Chemical Society.
What was your inspiration in becoming a chemist?
I believe one of the big chemical companies is responsible for attracting me to chemistry by sending a "polymer science kit", containing foams, resins and a toolkit to prepare Nylon fibres, to my senior class when I was still back in secondary school. Even nowadays, I still think that the classical experiment of pulling a polyamide fibre from the interface of oil/water monomer mixtures is one of the most intriguing and instructive experiments in a polymer class.
What was the motivation to write your Polymer Chemistry article?
Our main interest lies in developing self-assembly concepts to create new soft materials, for which we heavily rely on very well defined building blocks with tailored functionalities and interactions. Modern polymer chemistry provides us with the tools to make desirable building blocks with relative ease of synthesis. In this case we were interested in a straightforward way to modify the surfaces of colloidal particles to provide us with very specific biorecognition units, while at the same time rejecting all non-specific protein adhesion. Interestingly enough, despite all the common knowledge about the protein-repellent properties of polyethylene glycol (PEG) coatings, we could only find a very small amount of systematic studies discussing how for instance the architecture and composition of adsorbed PEG-based block copolymers influence protein repellency. So we went through a systematic study and optimised the building blocks to provide us with the required features for our future work. The underlying structure/property relationships at this point will be interesting for other researchers working on surface modification, biorecognition and protein-fouling.
Why did you choose Polymer Chemistry to publish your work?
Polymer Chemistry strives for high-level and interdisciplinary scientific contributions covering all modern aspects of polymer chemistry. We felt it to be the right place to achieve highest reach and recognition in the field.
In which upcoming conferences may our readers meet you?
European Polymer Federation Meeting, 21-26 June 2015, at Dresden, Germany.
How do you spend your spare time?
Keeping the work/life balance is probably one of the hardest challenges when working in science. I very much enjoy cooking to take my mind off stressful events, and I enjoy travelling to see new places and meet interesting people.
Which profession would you choose if you were not a scientist?
Indeed a very good question, I would probably follow another creative passion. Best-case scenario would then be running a restaurant in a picturesque place.
---
Daniel Hoenders,   Thomas Tigges and   Andreas Walther
We present the facile synthesis and orthogonal functionalization of diblock copolymers containing two mutually incompatible segments, i.e. primary amines and activated esters, that are displayed chronologically and synthesized by consecutive radical addition fragmentation transfer polymerization (RAFT) of suitably modified monomers. Post-polymerization modification of the active ester moieties with functionalized triethylene glycol derivatives (TEG-NH2/BiotinTEG-NH2) furnishes a protein-repellent block with specific biorecognition, and the activation of the amine groups via deprotection results in newly reactive primary amines. We subsequently use these amines as an anchoring layer for the coating of aldehyde-functionalized polystyrene (PS) colloids and demonstrate tight adhesion and enhanced protein-repellent characteristics combined with specific and multivalent biorecognition of avidin as a function of block ratios. Our strategy demonstrates a viable approach for orthogonal combination of widely needed, but mutually incompatible, functional groups into complex polymer architectures.
---
Cyrille Boyer is a guest web-writer for Polymer Chemistry. He is currently an associate professor and an ARC-Future Fellow in the School of Chemical Engineering, University of New South Wales (Australia), deputy director of the Australian Centre for NanoMedicine and member of Centre for Advanced Macromolecular Design.
---