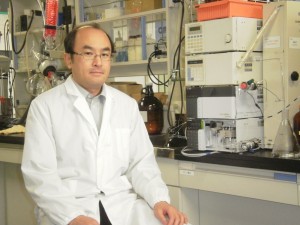 Professor Makoto Obata received his Ph.D. degree in polymer chemistry from Hokkaido University, Japan in 1999. In 2000, he joined Professor Percec's group at the University of Pennsylvania as a postdoctoral fellow. After one and a half years, he joined the faculty of Nara Women's University from 2001 to 2009. In 2009, he moved to the University of Yamanashi, where he is now an Associate Professor of Applied Chemistry. His research area is the synthetic chemistry of functional polymers containing carbohydrates and dyes.
Take a look at Professor Makoto Obata research group's website (please select translate for English).
What was your inspiration in becoming a chemist?
The training of my scientific expertise started at Asahikawa National College of Technology, Hokkaido, Japan, when I was 15 years old. I had an impressive supervisor at the college, and I was enthusiastic about studying my first research project on the synthesis of polymers bearing crown-ether for lithium ion capturing. After this experience, I was enchanted with the design and synthesis of new materials, especially organic materials.
What was the motivation to write your Polymer Chemistry article?
I started my career in Professor Yano's laboratory at Nara Women's University, Japan. His research area is the coordination chemistry of carbohydrate and its medicinal applications, such as anti-cancer drugs. When I worked with him, I recognised the potential of carbohydrates in medical applications. Currently, polyethylene glycol (PEG) is the first choice for water-soluble and biologically compatible polymers for drug delivery applications. In the future, I would like to make glycopolymer a functional alternative to PEG following a recently developed, controlled polymerisation technique.
Why did you choose Polymer Chemistry to publish your work?
My colleagues and I recognise that Polymer Chemistry is a high quality journal in this area.
In which upcoming conferences may our readers meet you?
I hope to attend the 2015 International Chemical Congress of Pacific Basin Societies (PACIFICHEM 2015).
How do you spend your spare time?
My wife and I love arts, especially 17th century Dutch painting, and animals (we love cats and dogs, and she deeply loves penguins!). However, it is not easy to see such masterpieces in Japan…
Which profession would you choose if you were not a scientist?
Even if I had not become a chemist, I would maybe have worked as a scientific engineer. I have never imagined joining any other kind of profession.
---
Aqueous RAFT synthesis of block and statistical copolymers of 2-(α-D-mannopyranosyloxy)ethyl methacrylate with 2-(N,N-dimethylamino)ethyl methacrylate and their application for nonviral gene delivery
Makoto Obata, Tomoya Kobori, Shiho Hirohara and Masao Tanihara
Polym. Chem., 2015,6, 1793-1804
DOI: 10.1039/C4PY01652A

Block copolymers composed of 2-(α-D-mannopyranosyloxy)ethyl methacrylate (ManEMA) and 2-(N,N-dimethylamino)ethyl methacrylate (DMAEMA) were synthesized by aqueous RAFT polymerization. The number-average degree of polymerization (DPn) of ManEMA segments was constant at 33, and the DPn of DMAEMA segments varied from 98 to 241. Statistical copolymers with a similar composition were also prepared via aqueous RAFT polymerization. The mannose-presenting nature was evaluated by a turbidimetric assay using Concanavalin A. The clustering rate of statistical copolymers was faster than those of the corresponding block copolymers. By contrast, no significant differences between block and statistical copolymers were found in their DNA-condensing ability as evaluated using gel shift assays and in their cytotoxicity in the transfection of plasmid DNA (pEGFP-N1) to HeLa cells. However, the overall transfection efficiency significantly depended on the monomer distribution. Statistical copolymers showed an overall transfection efficiency comparable to those of poly(DMAEMA·HCl)s, but block copolymers showed no detectable transfection under the same conditions.
---
Cyrille Boyer is a guest web-writer for Polymer Chemistry. He is currently an Associate Professor and an ARC-Future Fellow in the School of Chemical Engineering, University of New South Wales (Australia).
---