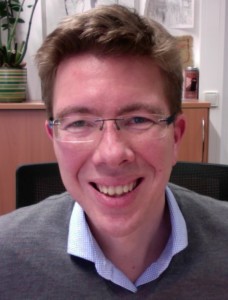 Philipp Vana studied Chemistry at the University of Vienna, Austria, were he obtained a Master of Natural Sciences in 1996 and a Doctor of Natural Sciences in 1999 after investigating chain-length dependent termination kinetics in radical polymerisation in Professor Oskar-Friedrich Olaj's group. Parallel to his PhD, he studied economics and law and obtained a diploma from the Technical University Vienna and a Master of Business Administration from the Danube-University Krems, Austria. Between 2001 and 2003 he was a Schrödinger-Fellow of the Austrian Science Fund at the Centre for Advanced Macromolecular Design (CAMD) at the University of New South Wales, Australia, were he work in the group of Professor Tom Davis in the field of RAFT polymerisation kinetics. In 2003, he established an independent research group at the University of Göttingen, Germany, specifically focusing on macromolecular design and functional polymer materials. In 2005 he became a Fellow of the Japan Society for the Promotion of Science at Kyoto University in Professor Takeshi Fukuda's group, were he moved into the field of polymer brushes and surface modifications. In 2008 he was granted the prestigious Heisenberg-Professorship of the German Research Foundation (DFG) at the University of Göttingen, where he finally became a Full Professor for Macromolecular Chemistry in 2010 after declining offers from Leipzig University and Duisburg-Essen University. Since 2013 he has been the director of the Institute of Physical Chemistry in Göttingen. Philipp has published more than 100 original research papers in addition to several book chapters, reviews and patents.
His scientific interests are macromolecular chemistry with a focus on tailored polymer microstructures and topologies as well as kinetic and mechanistic studies of polymerisation processes. He works on biomimetic high-performance polymers, polymer brushes and films on solid surfaces, functionalised polymers, printing inks, tire materials, liquid crystal displays and UV-switchable block copolymers. He also works on kinetics and mechanisms of radical polymerisations, which are studied via pulsed laser methods coupled with highly time-resolved EPR spectroscopy as well as via computer simulations. A special focus in polymer analytics is on soft ionisation mass spectrometry, AFM, mechanical testing of polymers, ellipsometry, and IR-spectroscopy.
Find out more about Philip Vana's research by visiting his group Web-site.
What was your inspiration in becoming a chemist?
I am from a family of natural scientists – my father was a physicist, my mother a chemist and so I got in touch with all the interesting aspects of natural science very early on. However, I noticed during my childhood that my interests lay more in the field of biology and living matter and so I decided to study biochemistry; I was worried about the career perspectives of a pure biologist. During my studies I got in touch with chemistry and quickly noticed that it was extremely exciting and interesting, this changed my original plan and I switched to chemistry. I haven't regretted the decision ever since and I am very happy to be a synthetic chemist. I then chose the field of polymer chemistry, I think it is the most exciting area of chemistry due to its large diversity. In the end, I came back to my original interests in biology by working on bio-inspired materials.
What was the motivation to write your Polymer Chemistry article?
I was always intrigued by the complexity and beauty of natural systems. I find it exciting to learn from nature by copying important aspects of natural materials and transpose them to purely synthetic fabrics. When I was writing a grant application several years ago, I accidently saw a picture of titin on the transparency of a conference talk. For me, as a polymer chemist, the structure looked like a very regular polymer made of individual ring-like monomers. At the time I was a PI in a graduate school in which hydrogen bonds were investigated in great detail. I started to interconnect all these aspects and came up with a project plan that aimed to fabricate a synthetic titin. To our delight, the project was granted but it then took some time to arrive at the final material because we first had to explore and optimise all the individual components of the system, including ring polymers. However, we are very happy that we could indeed mimic the structure of titin.
Why did you choose Polymer Chemistry to publish your work?
Honestly, this was the first time that I published in Polymer Chemistry. Many of our earlier work was very much related to physical chemistry, engineering, analytics and physics of polymers and I did not consider our work as being pure polymer chemistry. Nevertheless, I was very much impressed by the rise of this journal, in which many of my friends and colleagues are deeply involved. I also find the topics that are covered extremely interesting, especially the strong focus on controlled radical polymerisation, I am a loyal reader of this beautiful journal. Within this context, I find it amusing that my first paper in Polymer Chemistry is not related to controlled radical polymerisation at all, but we present a new way of forming modular polycyclic structures via step-growth, which we had never used before. In any case, I found this topic to be exactly in scope of Polymer Chemistry, which made it easy for me to chose it for this publication.
In which upcoming conferences may our readers meet you?
As I will shortly become dean of our faculty for the next two years, I cannot make exact plans for the near future but you can always meet my students and colleagues from my group at different conferences world-wide presenting our work. A group of my students, for instance will present our results in the field of nano-composite materials at the Fourth International Conference on Multifunctional, Hybrid and Nanomaterials in Sitges, Spain, 9 – 13 March 2015.
How do you spend your spare time?
I have a family with four small children and my wife and I are both work full days. This means that most of my time outside of the university is spent taking care of my children and organising daily life, which I very much enjoy. There is consequently not much time left for personal hobbies in the moment, but the time with my family gives me strength for my scientific endeavours as it clears my mind and wipes away old thoughts making room for new ideas.
Which profession would you choose if you were not a scientist?
Actually, I am very pleased with my job and enjoy most of my time being a Professor of Macromolecular Chemistry. The second best choice for me would have been an architect. I always loved making construction designs and graphics and I would love to design buildings from scratch. In a way, this would be similar to what I am doing now, but aiming at much larger structures. As an architect of molecules, however I am also very happy, although I haven't found any inhabitants for our little macromolecular constructions yet!
---
Jan-Hendrik Schuetz,   Peng Wentao and   Philipp Vana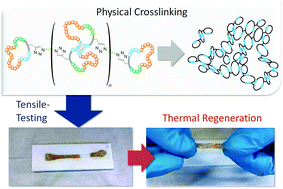 Polycyclic polymers based on cyclic (ABC)n-multiblock-copolymers are formed via stepwise polymerisation of three individual blocks and exploiting the ring merging reaction of these ring polymers. The so-obtained precursor ring-polymers were interconnected via click reaction. Small blocks within the rings with the ability to form self-complementary hydrogen bonds lead to intra- and intermolecular links between polycyclic polymers. The obtained materials, which mimic nature's paragon Titin, have some extraordinary material properties concerning elasticity and energy dissipation.
---
Cyrille Boyer is a guest web-writer for Polymer Chemistry. He is currently an Associate Professor and an ARC-Future Fellow in the School of Chemical Engineering, University of New South Wales (Australia) and deputy director of the Australian Centre for NanoMedicine.
---