Guillaneuf and Gigmes and co-workers discuss novel polymer synthesis methodologies using combinations of thermally- and photochemically-induced nitroxide mediated polymerization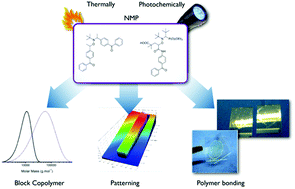 The combination of thermally- and photochemically-induced polymerization using light-sensitive alkoxyamines was investigated. The thermally driven polymerizations were performed via the cleavage of the alkoxyamine functionality, whereas the photochemically-induced polymerizations were carried out either by nitroxide mediated photo-polymerization (NMP2) or by a classical type II mechanism, depending on the structure of the light-sensitive alkoxyamine employed. Once the potential of the various structures as initiators of thermally- and photo-induced polymerizations was established, their use in combination for block copolymer syntheses was investigated. With each alkoxyamine investigated, block copolymers were successfully obtained and the system was applied to the post-modification of polymer coatings for application in patterning and photografting.
Remzi Becer is a web-writer and Advisory Board member for Polymer Chemistry. He is currently a Senior Lecturer in Materials Science and the director of the Polymer Science and Nanotechnology masters programme at Queen Mary, University of London. Visit www.becergroup.com for more information.