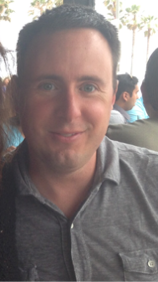 Anthony studied Chemistry at Edison College in Southwest Florida before transferring to the University of Southern Mississippi where he obtained his BS and PhD in Polymer Science and Engineering.  Under the supervision of his advisor, Professor Charles McCormick, he worked on preparing water-soluble polymers by RAFT polymerization.  Following the completion of his PhD studies he moved to Seattle Washington to do a postdoc with Professor Patrick Stayton and Allan Hoffman.  During his postdoc he worked on applying RAFT synthetic methodology to develop polymeric materials for delivering biologic drugs.  Following his postdoc, he took a position as a research assistant professor in the department of BioEngineering at the University of Washington.  To date Anthony has publish almost 60 research articles and patents and developed technology that has led to the establishment of a local area start up company.
His research is focused primarily on the application of controlled free radical polymerization and thiol-ene/Michael chemistry to develop powerful new delivery technologies that will enable the realization of therapies based on intracellularly active biologic drugs. These agents have the potential to revolutionize the treatment of serious diseases such as cancer and antibiotic resistant bacteria while minimizing harmful side effects.
What was your inspiration in becoming a chemist?
I think that I have always wanted to become a chemist.  From a very early age I enjoyed mixing whatever chemicals I could find to see what would happen. When I first started college I was required to take several chemistry classes as part of the pre-pharmacy curriculum. Along the way my organic chemistry instructor, Professor Scott, really inspired me to change my major to chemistry. His lab courses were fascinating and I was really intrigued by the idea that complex organic molecules could be made to react in deliberate ways. Soon after that I took a polymer chemistry course by Professor McCormick, who would later become my PhD advisor, which really sparked my imagination and cemented my desire to be a chemist.
What was the motivation to write your Polymer Chemistry article ?
The starting point for writing this article was the desire to create a new class of drug delivery system that could combine the high drug loading capacity and well defined structure of polymer-drug conjugates with the long circulation times of nanoparticle-based systems. Controlled radical polymerization methodologies, including the versatile reversible addition–fragmentation chain transfer (RAFT) polymerization process, are rapidly moving to the forefront in construction of drug delivery vehicles. The use of RAFT polymerization from multifunctional scaffolds provided a scientifically interesting approach for preparing these materials with spatially defined biofunctional segments.
Why did you choose Polymer Chemistry to publish your work?

Polymer chemistry is quickly becoming the premier journal for publishing cutting edge polymer science research across a range of polymer-related disciplines. The editors at Polymer Chemistry do a great job of making the manuscript figures and layouts look really sharp.  We are really excited about this work and felt that Polymer Chemistry would give our manuscripts excellent visibility. The work detailed in this manuscript was conducted along side a second closely related study so it made a lot of sense to publish them together.
In which upcoming conferences may our readers meet you?
We recently presented this work at the 2014 Zing Polymer Chemistry Conference in Cancun Mexico.  We are planning to attend the 2015 BMES meeting in Tampa, Florida.
How do you spend your spare time?
The Pacific Northwest is just amazing! There are so many natural wonders here that there is always a new hike to go on or a spectacular coastline to explore. I am also an aspiring surfer and take every opportunity to head down to the California coast to catch some waves. In the summer I like to head back to my hometown in Southwest Florida to fish for redfish with my cousin.  The mangrove shorelines and grassy flats have some of the best fishing in the world and are uniquely beautiful.  During football season you can usually find me at the local pub rooting for the Seattle Seahawks.
Which profession would you choose if you were not a chemist?
Pharmacist. Medicinal compounds and their affect on the human body have always fascinated me.
---
Well-defined single polymer nanoparticles for the antibody-targeted delivery of chemotherapeutic agents
D. D. Lane,   D. Y. Chiu,  F. Y. Su,   S. Srinivasan,   H. B. Kern,   O. W. Press,   P. S. Stayton and   A. J. Convertine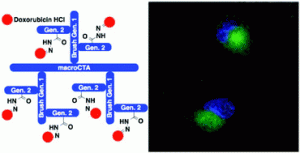 Aqueous reversible addition-fragmentation chain transfer (RAFT) polymerization was employed to prepare a series of linear copolymers of N,N-dimethylacrylamide (DMA) and 2-hydroxyethylacrylamide (HEAm) with narrow Đ values over a molecular weight range spanning three orders of magnitude (103 to 106 Da). Trithiocarbonate-based RAFT chain transfer agents (CTAs) were grafted onto these scaffolds using carbodiimide chemistry catalyzed with DMAP. The resultant graft chain transfer agent (gCTA) was subsequently employed to synthesize polymeric brushes with a number of important vinyl monomer classes including acrylamido, methacrylamido, and methacrylate. Brush polymerization kinetics were evaluated for the aqueous RAFT polymerization of DMA from a 10 arm gCTA. Polymeric brushes containing hydroxyl functionality were further functionalized in order to prepare 2nd generation gCTAs which were subsequently employed to prepare polymers with a brushed-brush architecture with molecular weights in excess of 106 Da. The resultant single particle nanoparticles (SNPs) were employed as drug delivery vehicles for the anthracycline-based drug doxorubicin via copolymerization of DMA with a protected carbazate monomer (bocSMA). Cell-specific targeting functionality was also introduced via copolymerization with a biotin-functional monomer (bioHEMA). Drug release of the hydrazone linked doxorubicin was evaluated as function of pH and serum and chemotherapeutic activity was evaluated in SKOV3 ovarian cancer cells.
---
Cyrille Boyer is a guest web-writer for Polymer Chemistry. He is currently an associate professor and an ARC-Future Fellow in the School of Chemical Engineering, University of New South Wales (Australia), deputy director of the Australian Centre for NanoMedicine and member of Centre for Advanced Macromolecular Design.
---