Nomura et al. present the one-pot synthesis of star shaped conjugated polymers.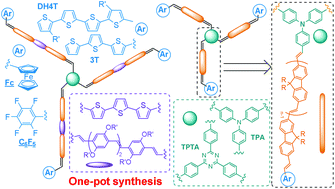 A facile, precise one-pot synthesis of end-functionalized star (triarm) polymers consisting of poly(9,9-di-n-octylfluorene-2,7-vinylene)s (PFVs), the triblock copolymers [by incorporation of tri(2,5-dialkoxy-1,4-phenylene vinylene) or terthiophene units as the middle segment], has been achieved by olefin metathesis followed by Wittig-type coupling. Effects of the PFV conjugation length, the middle segment and the end groups on the emission properties have been studied.
Remzi Becer is a web-writer and advisory board member for Polymer Chemistry. He is currently a Senior Lecturer in Materials Science and the director of the Polymer Science and Nanotechnology masters programme at Queen Mary, University of London. Visit www.becergroup.com for more information.