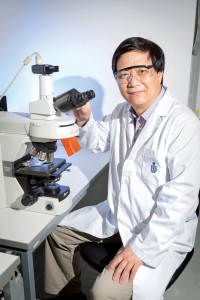 Polymer Chemistry Associate Editor Ben Zhong Tang was interviewed for Chemistry World about his work on alkyne polymers and aggregation induced emission.
Here are some of the highlights:
Your research on aggregation induced emission (AIE) received a lot of attention. Can you tell us more about it?
There are a lot of light emitting materials. This type of material, if you dissolve it to make a dilute solution, gives a very strong emission. However, for many of these kinds of dyes, if their concentration becomes high, their emission becomes weaker. This phenomenon has often been referred to as aggregation-caused quenching or ACQ for short. This is a problem in things like mobile phone displays, where the light emitting material is used as thin solid film. In the solid state, you know, concentration is the highest.
We have developed a family of luminogenic materials that behave in exactly the opposite way. When they are in solution, there is no emission, but when they aggregate, they emit very efficiently. It's unusual and intriguing: previously, people have tried to solve the problem of ACQ by trying to separate the light emitting molecules. But now we have a system where the more it aggregates, the better
You've used these systems recently to make biosensors.
Yes, one very good application for these systems is in biology. One of the reasons for this is that light emitting species are aromatic rings, which are hydrophobic. In the body, we don't have organic solvents: we only have water. Water is hydrophilic, so it isn't compatible with the aromatic molecules. Traditional ACQ systems are not very good for biological applications due to the aggregate formation, but our systems work well in water, also owing to the formation of aggregates!
What current problem would you like to see polymer chemistry provide a solution to?
There are so many problems! In China, pollution is a big issue and this includes plastics. If we can come up with an economic way to recycle polymers back to monomers, then make them into new polymers in an economic way, we could reduce environmental pollution. Energy, of course, is another issue. One day we may have a very good polymer-based solar cell.
Read the full interview on the Chemistry World website: Ben Zhong Tang: Polymers for a bright future