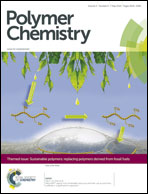 The Polymer Chemistry themed issue on Sustainable Polymers: replacing polymers derived from fossil fuels is online now. Guest Editor Stephen Miller (University of Florida) introduces the issue in his Editorial.
Here is a small selection of articles from the issue, which brings together the most recent reasearch achievements in the development of sustainable alternatives to replace classic polymers derived from fossil fuel feedstocks.
On the cover
MacroRAFT agents from renewable resources and their use as polymeric scaffolds in a grafting from approach Sanne De Smet, Sophie Lingier and Filip E. Du Prez
Review articles
The quest for sustainable polyesters – insights into the future Carla Vilela, Andreia F. Sousa, Ana C. Fonseca, Arménio C. Serra, Jorge F. J. Coelho, Carmen S. R. Freire and Armando J. D. Silvestre
Functionalization of cardanol: towards biobased polymers and additives Coline Voirin, Sylvain Caillol, Nilakshi V. Sadavarte, Bhausaheb V. Tawade, Bernard Boutevin and Prakash P. Wadgaonkar
Papers
Thermoplastic polyurethane elastomers from bio-based poly(δ-decalactone) diols Donglin Tang, Christopher W. Macosko and Marc A. Hillmyer
Sustainable cycloolefin polymer from pine tree oil for optoelectronics material: living cationic polymerization of β-pinene and catalytic hydrogenation of high-molecular-weight hydrogenated poly(β-pinene) Kotaro Satoh, Atsuhiro Nakahara, Kazunori Mukunoki, Hiroko Sugiyama, Hiromu Saito and Masami Kamigaito
Bringing D-limonene to the scene of bio-based thermoset coatings via free-radical thiol–ene chemistry: macromonomer synthesis, UV-curing and thermo-mechanical characterization Mauro Claudino, Jeanne-Marie Mathevet, Mats Jonsson and Mats Johansson
Polyoxalates from biorenewable diols via Oxalate Metathesis Polymerization John J. Garcia and Stephen A. Miller
More articles can be downloaded here.
---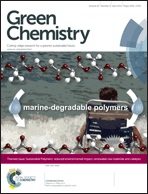 This issue is part of a joint collection on Sustainable Polymers, published in collaboration with Green Chemistry. Green Chemistry published their themed issue on Sustainable Polymers: reduced environmental impact, renewable raw materials and catalysis earlier this month. It was Guest Edited by Michael Meier (Karlsruhe Institute of Technology, Germany).
Take a look at the Green Chemistry themed issue here.
---