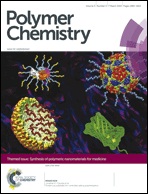 Advances in macromolecular engineering tools have enabled researchers to construct complex macromolecules with applications in the medical and pharmaceutical arena. Published this week, the Polymer Chemistry themed issue on the synthesis of polymeric nanomaterials for medicine highlights the latest research in this growing field. Guest Editors Cyrille Boyer and Thomas P. Davis introduce the issue in their Editorial.
On the front cover
Proteins as substrates for controlled radical polymerization
Jaqueline D. Wallat, Katie A. Rose and Jonathan K. Pokorski
The themed issue also includes the following review articles:
Phenylboronic acid-based glucose-responsive polymeric nanoparticles: synthesis and applications in drug delivery
Rujiang Ma and Linqi Shi
Redox-responsive polymers for drug delivery: from molecular design to applications
Meng Huo, Jinying Yuan, Lei Tao and Yen Wei
Recent trends in the design of anticancer polymer prodrug nanocarriers
Vianney Delplace, Patrick Couvreur and Julien Nicolas

Read the full issue here.