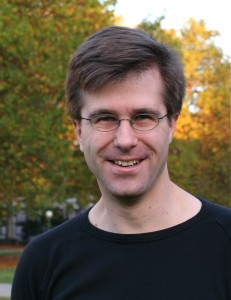 Christopher Barner-Kowollik completed a Dr. rer. nat. in Physical Chemistry at the University of Göttingen, before joining the Centre for Advanced Macromolecular Design (CAMD) at the University of New South Wales (Sydney), where he led a research team as full professor, after holding ranks from post-doctoral fellow to associate professor. He is currently a full professor of macromolecular chemistry at the Karlsruhe Institute of Technology (KIT). 
Christopher's main research interests are situated at the interface of organic, polymer and bio-chemistry and focus on a wide range of polymer-related research fields such as the synthesis of complex macromolecular architectures with highly-defined functionality and composition via living/controlled polymerization protocols, advanced synthesis via polymer conjugation techniques and macromolecular transformations at ambient temperature including light triggered methodologies, fundamental investigations into polymerization mechanisms and kinetics as well as high resolution imaging and characterization of macromolecular chain structures. Applications include high definition surface modification and nano-engineering for targeted cell attachment, biomimetic materials ranging from adhesives to routes to self-folding polymer chains, surface and solution bonding/debonding on demand systems, supramolecular chemistry with polymer strands as well as advanced biosubstrate functionalization.
Christopher's recent papers include:
Dual thermo- and photo-responsive micelles based on miktoarm star polymers
Eva Blasco, Bernhard V. K. J. Schmidt, Christopher Barner-Kowollik, Milagros Piñol and Luis Oriol  
Polym. Chem., 2013, 4, 4506-4514 DOI: 10.1039/C3PY00576C
Fast and catalyst-free hetero-Diels–Alder chemistry for on demand cyclable bonding/debonding materials
Kim K. Oehlenschlaeger, Nathalie K. Guimard, Josef Brandt, Jan O. Mueller, Ching Yeh Lin, Stefan Hilf, Albena Lederer, Michelle L. Coote, Friedrich G. Schmidt and Christopher Barner-Kowollik  
Polym. Chem., 2013, 4, 4348-4355 DOI: 10.1039/C3PY00476G
Diels–Alder reactions for carbon material synthesis and surface functionalization
Nicolas Zydziak, Basit Yameen and Christopher Barner-Kowollik  
Polym. Chem., 2013, 4, 4072-4086  DOI: 10.1039/C3PY00232B, Review Article
To keep up-to-date with all the latest research, sign-up to our RSS feed or Table of contents alert.