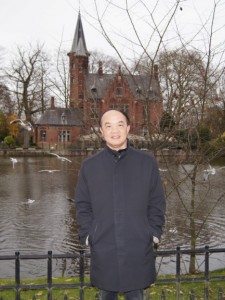 Prof. Jiannian Yao received his PhD degree with Prof. Akira Fujishima at Tokyo University in 1993. Then he joined the Institute of Photographic Chemistry, Chinese Academy of Sciences (CAS), and now he is a Professor of Chemistry in the Institute of Chemistry, CAS. He has been a member of CAS since 2005, and a fellow of the Royal Society of Chemistry (RSC) since 2008. He is currently serving as the chairman of the Chinese Chemical Society (CCS), and is the vice president of the National Natural Science Foundation of China (NSFC). His research interests include organic and inorganic opto-functional materials. He has published more than 350 papers, which have been cited nearly 6000 times.
(Research Group: http://jnyao.iccas.ac.cn/)
 What was your inspiration in becoming a chemist?
Chemistry is a very central discipline, which connects the profound principles in physics and the complex phenomena in materials/biological science. Through various chemical routes, we can build molecules, clusters, nanoparticles, mesoscopic structures, and macroscopic materials over a wide range of scales. This not only provides us an ideal test bed to prove our bold theoretical conjectures, but also gives rise to many practical applications that help in solving the energy demand and environment problem. I am really enjoying my research in chemistry, and I hope it will contribute to both scientific advance and people's everyday life.
What was the motivation to write your Polymer Chemistry article?
As potential alternatives to the widely used electron-acceptor of PCBM, highly efficient non-fullerene small molecules with excellent solution-processability are the key bottleneck for the further advances of the solution-processed non-fullerene organic solar cells (OSCs). Our initial motivation is to develop new efficient solution-processed non-fullerene small molecules. Perylene diimide (PDI) derivatives are potential non-fullerene small molecules and have been researched for several tens of years, but their strong aggregation ability normally limits their potential applications in the field of OSCs. To resolve this problem, we have designed and synthesized a series of PDI dimers which combine both the twisted molecular conformations and the amphiphilic side chains. This design concept carries out the balance between the pi-pi stacking ordering of the PDI chromphores and the reduced aggregate size of the acceptor phase when blended with a donor. As part of our findings, this Polymer Chemistry article ( DOI: 10.1039/C3PY00457K) tells the steric pairing effects from the twisted conformations of the molecular backbone and the role of the solvophilic and twisted bridge. Both of them determine the molecular aggregation ability and further the photovoltaic properties of the non-fullerene OSCs, shedding light on the fine-tuning molecular aggregation ability by judicious molecular tailoring.
Why did you choose Polymer Chemistry to publish your work? (DOI: 10.1039/C3PY00457K)
Polymer Chemistry is a leading journal in the field of polymer science with many high quality and impact papers in the photovoltaic field. Also, the reviewing and publishing process is very fast, ensuring a timely report of our latest results.
In which upcoming conferences may our readers meet you?
I will attend the 29th Chinese Chemical Society (CCS) Congress held by Peking University in the year of 2014. This congress will invite chemists from China and many other countries (US, UK, Germany, Japan, etc.).
How do you spend your spare time?
I liked playing volleyball very much when I was younger. In these years, I often do some exercises on a treadmill machine, or just take a walk with my family. Chinese calligraphy is also one of my hobbies.
Which profession would you choose if you were not a scientist?
I would probably be engaged in the education career. I believe teaching the younger generation is essential to social progress. Actually, helping my students with their research is a very important part of my current job.
Cyrille Boyer is a guest web-writer for Polymer Chemistry. He is currently associate professor and an ARC-Future Fellow at the Australian Centre for NanoMedicine and Center for Advanced Macromolecular Design (School of Chemical Engineering, University of New South Wales (Australia)).
To keep up-to-date with all the latest research, sign-up to our RSS feed or Table of contents alert.