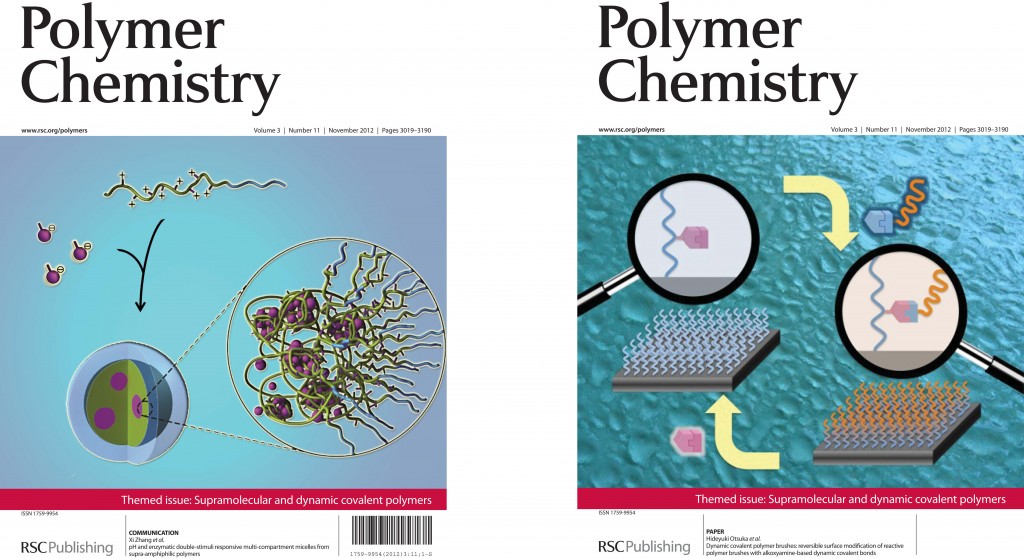 The 'Supramolecular and Dynamic Covalent Polymers' themed issue was published last week. Guest editors Neil Ayres and Marcus Weck introduce the issue in their Editorial.
The front covers showcase work by Xi Zhang and co-workers (pH and enzymatic double-stimuli responsive multi-compartment micelles from supra-amphiphilic polymers) and Hideyuki Otsuka and co-workers (Dynamic covalent polymer brushes: reversible surface modifi cation of reactive polymer brushes with alkoxyamine-based dynamic covalent bonds).
The issue also includes the following Review articles:
Phase separation of supramolecular and dynamic block copolymers by Mihaiela C. Stuparu, Anzar Khan and Craig J. Hawker
Schiff's base as a stimuli-responsive linker in polymer chemistry by Yan Xin and Jinying Yuan
To keep up with the journal news you can Like us on Facebook or Follow us on Twitter.