Congratulations to Emmanuelle Read (University Paul Sabatier, France) for winning the Polymer Chemistry poster prize at the recent conference CopAmphi 2012.
The winning poster was titled: Copolymères diblocs thermosensibles cationiques : synthèse par RAFT/MADIX dans l'eau et étude de leurs propriétés physico-chimiques
(In English: Cationic thermosensitive diblock copolymers: synthesis by RAFT/MADIX in water and investigation of their physico-chemical properties)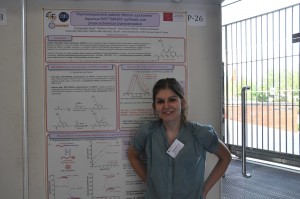 CopAmphi 2012 was held in 5th – 7th June, in Toulouse, France.
To keep up-to-date with all the latest research, sign up for the journal's e-alerts or RSS feeds or follow Polymer Chemistry on Twitter or Facebook.