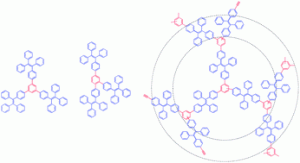 A promising fluorescent chemosensor for explosives detection has been developed by researchers in China.
The team made hyperbranched polymers by the polycyclotrimerisation of tetraphenylethenes. The compounds were thermally stable with high degradation temperatures under nitrogen and in air. They are non-emissive or weakly fluorescent in solution; they become strong emitters when aggregated in poor solvents and in the solid state, demonstrating aggregation-induced or enhanced emission.
The emission of the polymer in the solution and aggregated states can be quenched efficiently by picric acid (the explosives TNT and DNT exert a similar effect to picric acid on the light emission of the polymer) with large quenching constants, suggesting that it is a promising fluorescent chemosensor for detecting explosives. Read the article for free until 14th May.
Reference: Rongrong Hu ,  Jacky W. Y. Lam ,  Jianzhao Liu ,  Herman H. Y. Sung ,  Ian D. Williams ,  Zhounan Yue ,  Kam Sing Wong ,  Matthew M. F. Yuen and Ben Zhong Tang, Polym. Chem., 2012, DOI: 10.1039/C2PY20057K (Advance Article)