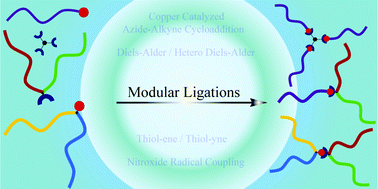 The synthesis of complex macromolecular architectures to control the polymer properties is a key field to study in polymer science. In particular, star shaped polymers have been used in wide range of applications from biomedical field to oil industry.
Constructing star polymers via modular ligation strategies by Ozcan Altintas, Andrew P. Vogt, Christopher Barner-Kowollik and Umit Tunca Polym. Chem. 2012, 3, 34-45.
To keep up-to-date with all the latest research, sign up for the journal's e-alerts or RSS feeds or follow Polymer Chemistryon Twitter or Facebook.