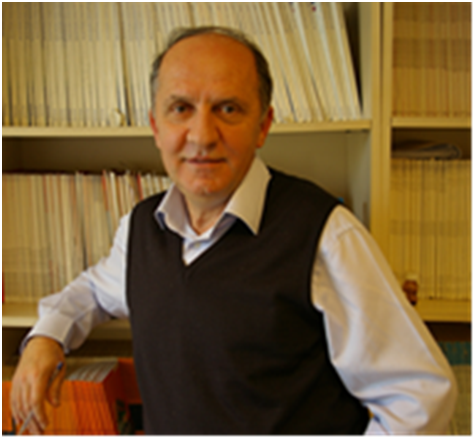 Yusuf Yagci is a full professor of Chemistry at Istanbul Technical University, Turkey. He received his Masters (1977) and Ph.D. (1979) degree from Liverpool University (UK). He has published about 400 original research papers in different peer-reviewed international journals. Professor Yagci has supervised more than 70 Ph.D. and M.Sc. students. He serves as member of the editorial board of many international journals. He is the recipient of several awards including the Turkish Scientific and Technological Research Council (Tubitak) Young Investigator Award (1989), Tubitak Science Award (1994), Turkish Chemical Society Honorary Member Award (2002), The Society of Polymer Science, Japan (SPSJ) InternationalAward (2008), the Elginkan Foundation Technology Award (2008) and  Comstech (Islamic Countries Technology Council) Science Award (2010). He is also a full member of the Turkish Academy of Sciences (1997). His research interests involve synthesis of complex macromolecular structures, photopolymerization, controlled/living polymerization methods, high performance thermosets.
Please follow the links for further information on Yusuf's research group and his recent paper in Polymer Chemistry.
What was your inspiration in becoming a chemist?
My father. I was not a good student during my high school education. I failed to pass the final exams in Chemistry, English and History and had to wait for a year without going to the school to get acceptable marks. Then, I wanted to study Pharmacology in order to have more free time after the education to play soccer, to listen to music and for other social activities. However, my father insisted to study Chemical Engineering and otherwise he would have not supported financially. The selection of polymer chemistry also happened accidentally. While I was attending to a language course in Cambridge, one of my friends asked to accompany him for visiting Liverpool University. After meeting Prof. Bamford and Prof. Ledwith there, I decided to continue my further studies at Liverpool University. Eventually, I completed both MSc and PhD studies under their supervision. This period was a very fortunate time of my educational life. I learned a lot from Prof. Ledwith and found out that I follow his research strategy without paying too much attention that time.
What was the motivation behind the research in your recent Polymer Chemistry paper?
Besides our strong interest in photoinitiating systems and high performance thermoset polymers, we focus on the synthesis of complex macromolecular architectures using controlled/living polymerization and various coupling processes. I am a lucky scientist because I have brilliant students. While discussing on our mutual interest, one of my Ph.D students, Gorkem Yilmaz suggested to combine all existing click reactions to form miktoarm star copolymers. It worked out well and we believe the concept we describe will be an important contribution to synthetic polymer chemistry.
Why did you choose Polymer Chemistry to publish your work?
When "Polymer Chemistry" started to be published, I hesitated to submit any paper as its value in the community was not clear. Soon after, it took its place among the high ranking journals particularly in the field of synthetic polymer chemistry.
In which upcoming conferences may our readers meet you?
International Symposium on Polymers for Advanced Tehnologies (Poland). Thailand Polymer Congress, Thailand, Pacific Polymer Congress (South Korea), World Polymer Congress (USA) and so on.
How do you spend your spare times?
Playing soccer, tennis, table tennis, squash, and singing. Basically enjoying the life.
Which profession would you choose if you were not a scientist?
I would choose to be a soccer player.