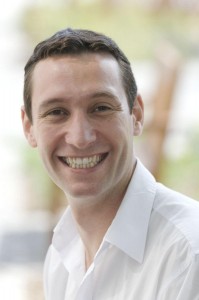 Sebastien Perrier is the director of the Key Centre for Polymer Colloids in the University of Sydney. His research team specialises in the synthesis and characterisation of macromolecules with highly controlled and pre-determinable structures using controlled/living free radical polymerisation to design new materials, or improve existing ones. Their research is at the interface between the understanding of the chemistry behind the polymerisation techniques and the production of functional materials for targeted applications. Such applications can be in the field of pharmacy (e.g. drug delivery), biology (e.g. antimicrobial materials, synthetic proteins), nanotechnology (e.g. components for optoelectronic applications), physics (e.g. rheology modifiers) or chemistry (polymerisation catalysts, processes, etc.). Much of their research is carried out in close collaboration with industrial and academic partners.
Please follow the link for further information on Sebastien's research group and his recent paper in Polymer Chemistry.
What was your inspiration in becoming a chemist?
I have always been interested in science. Chemistry does not only allow us to understand how nature builds the world around us, but it also permits us to follow its path! I find polymer chemistry an especially exciting subject, as it is a multidisciplinary field.
What was the motivation behind the research in your recent Polymer Chemistry paper?
Hydroxyethyl (meth)acrylate is a very versatile monomer, and its polymers have found applications in many different fields, from materials to medical science. The polymer has been know for many years, but I feel its real potential is only being discovered now, mainly thanks to the rise of new techniques of living radical polymerisation.
Why did you choose Polymer Chemistry to publish your work?
Polymer Chemistry is an exciting new journal, which covers the latest trend in polymer synthesis, and has fast publication times.
At which upcoming conferences may our readers meet you?
I will be at the next ACS National Meeting in Anaheim, then the 43rd IUPAC World Chemistry Congress in Puerto Rico, the ACS National Meeting in Denver and the 5th Pacific Symposium on Radical Chemistry and the Annual Meeting of the Society of Polymer Science in Japan – busy year!
But really, people should come to the Australasian Polymer Symposium we will organise in Hobart, Tasmania, in February 2012 (www.33APS.org.au). A good opportunity to see great polymer science in a fantastic surrounding!
How do you spend your spare time?
What spare time?! I love reading.
Which profession would you choose if you were not a scientist?
Historian – I like to know where we come from, and understand how we got to where we are.