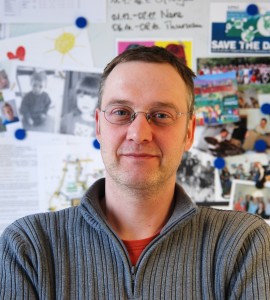 Helmut Schlaad received his chemistry diploma from the University of Mainz, Germany, in 1993. He continued his studies in Mainz and completed his Ph.D. in 1997 on anionic polymerization of (meth)acrylates under the supervision of Prof. Dr. Axel H. E. Müller. In 1998, he went to the University of Massachusetts at Lowell, USA, to work with Prof. Dr. Rudolf Faust in the field of cationic polymerization of vinyl monomers. In 1999, he joined the Max Planck Institute of Colloids and Interfaces, shortly before the institute moved from Teltow to its new location in Golm, Germany, to lead the project "Amphiphilic Block Copolymers" (workedfor habilitation, finished in 2004) in the group of Prof. Dr. Dr. Markus Antonietti. His research is devoted to (i) the development of new controlled polymerization techniques, modular synthetic pathways, and "thio-click" chemistry (ii) advanced characterization of functional polymers, and (iii) study of complex structure formation of bioinspired (co-)polymers through specific non-covalent interactions. Please follow the link for further information on Helmut's research group and his recent publication in Polymer Chemistry. 
What was your inspiration in becoming a chemist?
I think the chemistry teachers during school time inspired and motivated me most to later study chemistry at university. My second inspiration, and also confirmation that becoming a polymer chemist was absolutely the right choice, was my PhD supervisor Axel H. E. Müller.
What was the motivation behind the research in your recent Polymer Chemistry paper? (DOI: 10.1039/c1py00002k)
The initial motivation was to make some sophisticated graft copolymers by thiol-yne photo click chemistry – however this did not work out as planned: no clicking but cross-linking! So we changed the direction a bit and used the same chemistry to make functional star polymers by in situ functionalization/cross-linking of block copolymer micelles. And this worked out really nicely… 
Why did you choose Polymer Chemistry to publish your work?
I am convinced that Polymer Chemistry will be among the top journals for original papers in polymer science. It has a broad readership and promises fast review process and publication – which I can now confirm from my own experience.
In which upcoming conferences may our readers meet you?
I will attend the Hybrid Materials 2011 Conference in Strasbourg, France (March), the Ionic Polymerization (IP'11) in Akron, Ohio (July), and the Symposium on Polymeric Materials in Bayreuth, Germany (September).
How do you spend your spare time?
Spare time…? Well, there are the kids (6 and 8 years old), lots of house and garden work, music, and no sports.
Which profession would you choose if you were not a scientist?
Drummer in a Rock band!!!