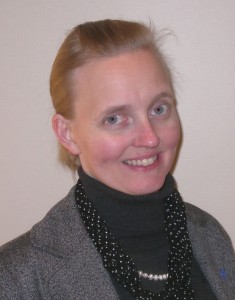 Eva Malmström Jonsson has been focusing on the synthesis of complex macromolecular architectures, including dendrimers and hyperbranched macromolecules, and their characterization and evaluation in specific applications. More recently, she has explored surface initiated polymerizations (controlled radical polymerization and ring-opening polymerizations) as viable routes for surface modification of biofibre surfaces at KTH Royal Institute of Technology, School of Chemical Science and Engineering, Sweden.
You can follow the link for further information on her research group and also scroll down to read our short conversation on her recent report in Polymer Chemistry.

What was your inspiration in becoming a chemist?
I had a really great chemistry teacher during high school. She really conveyed a lot of interesting and fascinating stuff about chemistry. She inspired several of the students in my grade to pursue higher education focusing on chemistry!
What was the motivation behind the research in your recent Polymer Chemistry paper where you discussed the selective cleavage of polymer grafts from solid surfaces?
The forest industry is very important in Sweden and there is a strive to develop high-quality end products based on wood polymers. Since quite a number of years we have been interested in conducting surface modification of biofibre surfaces aiming for various functions. It has been really frustrating not to be able to assess the properties of the grafted polymer, being forced to assume that it has similar properties as a polymer formed in parallel from a sacrificial initiator. By this novel initiator we can selectively cleave off the polymer grafts, isolate the polymer and subsequently characterize it, as well as determine the number of chains on the surface. It is a little step towards a deeper understanding on surface-initiated ATRP from biofibre surfaces.
Why did you choose Polymer Chemistry to publish your work?
I find Polymer Chemistry to be a very good journal, with a broad readership, high ambitions regarding contributions and, very importantly, a fast review process and publication.
In which upcoming conferences may our readers meet you?
I will attend the International Dendrimer Symposium 7 in Washington, USA.
How do you spend your spare time?
Presently, I do not have a lot of spare time but when I do, I try to spend time with my family, tend to my garden (not during this time of the year though), or horse-back riding.
Which profession would you choose if you were not a scientist?
I think I would have wanted to become an author, or maybe a chef…