We are delighted to share with you a new collection of articles highlighting some of the most recent articles in Materials Advances on 'Perovskites'. With a wide range of applications, perovskites are any materials with a similar crystal structure to a perovskite mineral, which is usually lead or tin halide-based.  Containing both reviews and original research, the collection includes work on synthesis, properties, structural considerations, and covers applications in solar cells, optics and lighting.
See the collection and read the articles.  Below is a snapshot of some of the articles included.
Review
Polymorphism in metal halide perovskites
Aida Alaei, Abigail Circelli, Yihang Yuan, Yi Yang and Stephanie S. Lee
Mater. Adv., 2021, 2, 47-63
DOI: 10.1039/D0MA00643B
Communication
Novel scalable aerosol-assisted CVD route for perovskite solar cells
R. Ratnasingham, L. Mohan, M. Daboczi, T. Degousée, R. Binions, O. Fenwick, J.-S. Kim, M. A. McLachlan and J. Briscoe
Mater. Adv., 2021, Advance Article
DOI: 10.1039/D0MA00906G
Paper
A reversible and fast-responsive humidity sensor based on a lead-free Cs2TeCl6 double perovskite
Chaojie Pi, Xue Yu, Weiqing Chen, Liuli Yang, Chao Wang, Zhichao Liu, Yiya Wang, Jianbei Qiu, Bitao Liu and Xuhui Xu
Mater. Adv., 2021, 2, 1043-1049
DOI: 10.1039/D0MA00835D
We hope you enjoy reading these articles!
Visit our website – rsc.li/materials-advances
Sign up now to get updates on all articles as they are published on Twitter, Facebook, and our e-alerts.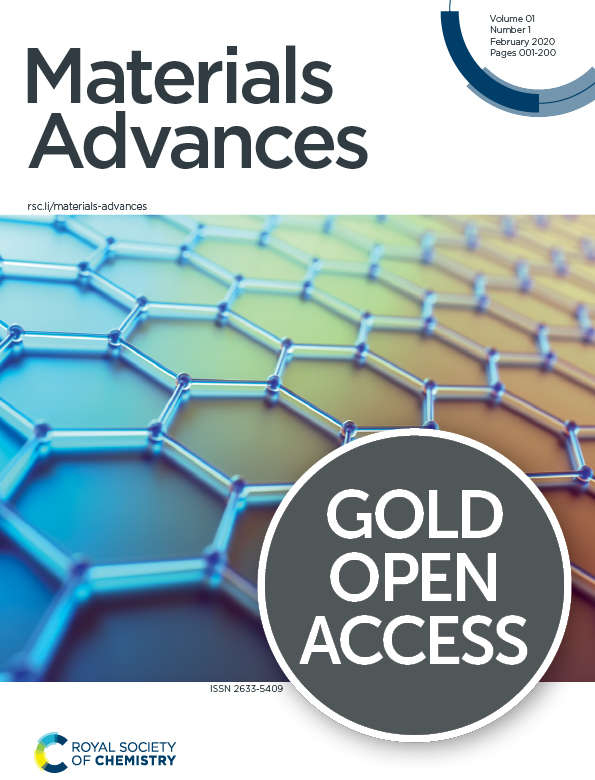 Materials Advances is an international, gold open access journal, publishing good quality research across the breadth of materials science.
Free to read, and free to publish in, the journal builds on and complements the materials research published in the Royal Society of Chemistry journal portfolio.