We've picked out a few more referee-recommended articles in Chemical Science for you to enjoy – all are open access:
Making the longest sugars: A chemical synthesis of heparin-related [4]n oligosaccharides from 16-mer to 40-mer
Steen Uldall Hansen, Gavin John Miller, Matthew John Cliff, Gordon C Jayson and John M GardinerÂ
Chem. Sci., 2015, Accepted Manuscript, DOI: 10.1039/C5SC02091C, Edge Article
 

---
Cell paintballing using optically targeted coacervate microdroplets

James P.K. Armstrong, Sam Olof, Monika Jakimowicz, Anthony Hollander, Stephen Mann, Sean A Davis, Mervyn Miles, Avinash Patil and Adam PerimanÂ
Chem. Sci
., 2015, Accepted Manuscript,
DOI
: 10.1039/C5SC02266E, Edge Article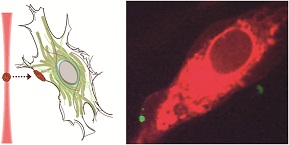 ---
Well-defined silica supported aluminum hydride: another step towards the utopian single site dream?

Baraa Werghi, Anissa Bendjeriou-Sedjerari, Julien Sofack-Kreutzer, Abdesslem Jedidi, Edy Abou-Hamad, Luigi Cavallo and Jean-Marie BassetÂ
Chem. Sci
., 2015, Advance Article,
DOI
: 10.1039/C5SC02276B, Edge Article
---
Interaction of silver metal clusters with living organisms: bactericidal effect of Ag3 clusters mediated by disruption of topoisomerase-DNA complexes

José Neissa, Cristina Pérez-Arnaiz, Vanessa Porto, Natalia Busto, Erea Borrajo, José Maria Leal, M. Arturo Lopez-Quintela, Begona Garcia and Fernando DomínguezÂ
Chem. Sci
., 2015, Accepted Manuscript,
DOI
: 10.1039/C5SC02022K, Edge Article