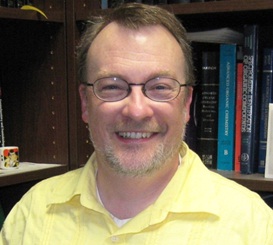 Chemical Science is delighted to announce that Professor James K. McCusker of Michigan State University has joined the journal as an Associate Editor. Jim is now handling submissions in the area of Physical Inorganic chemistry.
Biography
Jim McCusker was born in New Haven, Connecticut in 1965. After graduating from Bucknell University and University of Illinois at Urbana-Champaign, he joined the University of North Carolina as an NIH Postdoctoral Fellow, where he worked with Professor Thomas J. Meyer from 1992-94. Following this he took up a position as Assistant Professor of Chemistry at the University of California, Berkeley. In 2001 Jim moved his research group to Michigan State University, where he is currently Professor of Chemistry and Director of the Center of Research Excellence in Complex Materials (CORE-CM).
Research
The McCusker Group's research revolves around the ultrafast excited-state dynamics of transition metal complexes – in particular as this relates to the development of solar energy conversion strategies – as well as the interplay between zero-field spin polarization and the physical and photophysical properties of molecular systems.
Jim on Chemical Science
We asked Jim to talk us through some of his favourite Chemical Science articles. He picked the following as his highlights:
Recent advances on ultrafast X-ray spectroscopy in the chemical sciences
L. X. Chen, X. Zhang and M. L. Shelby  
Chem. Sci., 2014, 5, 4136-4152, DOI: 10.1039/C4SC01333F, Minireview
Jim says, "This is a mini-review by Chen and co-workers. It's a great example of one of the formats that Chem Sci has created that allows an expert in a certain area to present his/her perspective. In this case, Lin Chen, one of the world's experts in the application of ultrafast x-ray science to chemical problems, does a great job in explaining the history of the methodology and what the information derived from these experiments can provide to chemists. In essence, Chen takes a fairly sophisticated physical chemistry/chemical physics technique and explains its relevance to the broader chemical community."
Energy transfer mediated by asymmetric hydrogen-bonded interfaces
Elizabeth R. Young, Joel Rosenthal and Daniel G. Nocera  
Chem. Sci., 2012, 3, 455-459 , DOI: 10.1039/C1SC00596K, Edge Article
"A paper by our new Editor-in-Chief. This is a great example of how judicious use of molecular design can be used to illustrate and expand our understanding of fundamental chemical principals. In this case, the topic is proton-coupled electron transfer (PCET), a field that Nocera (along with my colleague at MSU, Robert Cukier) effectively defined and codified back in the 90s. This paper shows that the motion of protons in donor-acceptor systems can not only play a role in electron transfer (hence the term PCET), but can also be important in energy transfer. This effectively expands the scope of the PCET picture into a completely new realm of reactivity."
Slow magnetization dynamics in a series of two-coordinate iron(II) complexes
Joseph M. Zadrozny, Mihail Atanasov, Aimee M. Bryan, Chun-Yi Lin, Brian D. Rekken, Philip P. Power, Frank Neese and Jeffrey R. Long  
Chem. Sci., 2013, 4, 125-138, DOI: 10.1039/C2SC20801F, Edge Article
"A paper by former Associate Editor Jeffrey Long, this represents a terrific confluence of synthesis, physical methods, and theory to demonstrate the applicability of an important physical concept in setting that would previously have been deemed unlikely at best. The present case deals with the rapidly developing area of single-molecule magnetism. Once thought to be relegated to large metal clusters, this paper shows how, by paying attention to the true underlying basis for the phenomenon, one can design molecules that exhibit the same effect in the simplest of coordination environments, namely a single-ion, two-coordinate complex."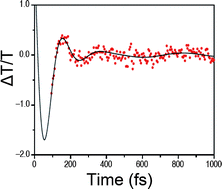 Vibrational coherence in the excited state dynamics of Cr(acac)3: probing the reaction coordinate for ultrafast intersystem crossing
Joel N. Schrauben, Kevin L. Dillman, Warren F. Beck and James K. McCusker  
Chem. Sci., 2010, 1, 405-410, DOI: 10.1039/C0SC00262C, Edge Article
On choosing this Edge Article from an early issue of Chemical Science, Jim comments, "Okay, this is a bit self-serving in that it comes out of my group, but I'm actually quite proud of this paper. In chemistry we often talk about the "reaction coordinate" for a chemical process, be it a thermal reaction or a photo physical transformation, but what does that really mean? In this study, we were actually able to identify what this reaction coordinate is in the context of ultrafast excited-state dynamics. This paper was the first to document vibrational coherence associated with ligand-field electronic states. The underlying nature of the molecular motion responsible for this coherence was identified, and that information was used to synthetically modify the compound. The result was a > 10x modulation of the kinetics associated with the photo physics of this system, demonstrating for the first time that one could in fact use synthetic chemistry to effect significant changes in the photo-induced properties of molecules, even those occurring on sub-picosecond time scales."
These articles are all free to access until 14th May.
Jim is now accepting submissions to Chemical Science in the area of physical inorganic chemistry. Submit your high-impact research to his Editorial Office.