Scientists in Canada have studied the synthetic scope of a new system of [2]rotaxane molecular shuttles based on a templating motif involving a benzimidazolium–crown ether recognition pair.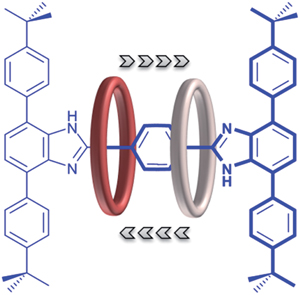 The template allows an array of molecular shuttles containing macrocyclic crown ethers of varying size and shape to be prepared.
The study also provides the beginnings of a property–structure relationship for molecular shuttling in this rigid, compact [2]rotaxane system. This could aid in the future design of [2]rotaxane molecular shuttles for incorporation into materials such as metal–organic frameworks.
Bis(benzimidazolium) axles and crown ether wheels: a versatile templating pair for the formation of [2]rotaxane molecular shuttles
Stephen J. Loeb, Kelong Zhu, V. Nicholas Vukotic and Nadim Noujeim
DOI: 10.1039/C2SC20986A