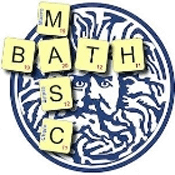 The RSC Macrocylic and Supramolecular Chemistry meeting (MASC-11) is taking place on the 19th and 20th December 2011 at the University of Bath, UK.
A number of high profile authors will be speaking at the meeting including Chem Soc Rev Associate Editor, Professor Phil Gale, and Professor Kay Severin who is giving the Chemical Science sponsored lecture. To find out more about Professor Severin's research, download his latest Chemical Science articles:
Dr Jonathan Nitschke will be delivering the Dalton Transactions lecture as a result of being awarded the 2011 Dalton Transactions European/African Lectureship earlier on this year. Jonathan has also recently been awarded the ChemComm 2012 Cram Lehn Pedersen award.
Read more about Jonathan's research by downloading his Chemical Science articles: 
ChemComm, Chemical Science and Chem Soc Rev Deputy Editor, Joanne Thomson, will be attending the event. If you would like to arrange a meeting with Joanne, please email her at the Editorial Office.
To attend MASC-11, register before the 12th December 2011. The deadline for poster abstract submissions is 1st December.