UK researchers have embarked upon a new method to create structurally diverse molecules for drug discovery.
Finding new lead compounds for drug discovery is a formidable challenge which has traditionally relied on natural product isolation and combinatorial chemistry. Despite significant investment in combinatorial chemistry, this approach has found very limited success due to a lack of chirality and structural rigidity in the compounds produced. To tackle this problem, chemists are using diversity orientated synthesis (DOS) which aims to produce compounds that are structurally diverse in shape and stereochemistry and also in functionality.
Robert Stockman from the University of Nottingham and his team have pioneered an approach that combines two-directional synthesis with tandem reactions as a tool for DOS. The starting material is a simple trifunctional, linear molecule that can be folded back on itself in a number of ways to produce a wide range of structures – like tying knots in a piece of rope.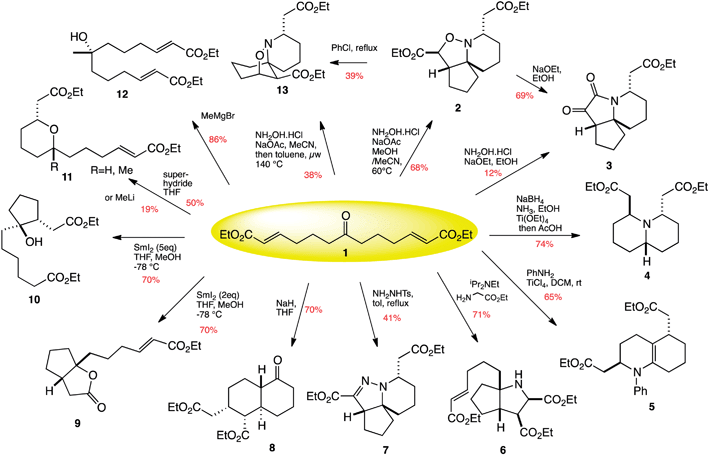 12 products are synthesised from one molecule by combining two-directional synthesis and tandem reactions
The researchers were able to create twelve natural product-like structures from only one compound, in just fifteen reactions. Stockman and his team found that a number of compounds derived from one of the products were effective against cancer cell lines, proving that compounds synthesised by this approach are promising candidates for use in new medicines.
To find out more, watch Dr Stockman's video and download the Chemical Science Edge article.