Aksakal et al. report the Cu(0)-mediated living radical polymerization of acrylates using a British penny coin.
Cu(0)-mediated living radical polymerization, typically referred to as single electron transfer living radical polymerization (SET-LRP), is a versatile tool for the synthesis of advanced materials. The groups of Becer and Resmini have further highlighted this versatility by reporting the SET-LRP of acrylates catalyzed by a penny copper coin. Impressively, a wide range of hydrophobic and hydrophilic monomers were successfully polymerized yielding well-defined polymers with low dispersities, near-quantitative conversions and high end group functionality. The scope of the system was subsequently expanded to include the synthesis of star polymers through the core first approach. Interestingly, the authors used two type of coins, the first one (issued in 1971-1992) consisting of 97% of copper and the second one (issued after 1992) consisting of 6% of copper. Both coins exhibited near identical polymerization results. A series of polymerizations targeting different degrees of polymerization were also conducted, all proceeding with very good control over the molecular weight distributions. In comparison to traditional Cu(0)-wire systems, British penny coins have the additional advantage of prohibiting the induction period, which is typically observed for many SET-LRP reactions. Finally, the scalability of these polymerizations up to 50 gram scale was also successful and thus demonstrating an economic, efficient and easily accessible catalyst for SET-LRP of various acrylic monomers.


Tips/comments directly from the authors:
Comments:
In this study, we provide direct evidence that the traditionally used Cu(0)-wire can be replaced with a copper coin, regardless to its year of issue. To avoid any induction period, this method can be employed for the synthesis of well-defined polymers of acrylates with both linear and star shaped initiators.


Tips:
Since the coins are usually contaminated due to prior circulation, we suggest for reproducibility purposes a quick rinse with a freshly prepared HCl before the polymerization.
As mentioned in the manuscript, both penny coins issued before and after 1992 exhibit near identical polymerization results. However, the coins issued after 1992 consist of 94% steel and are magnetic. Due to this, it should be taken into account that the magnetic stirrer can occasionally spin out of its axis. Therefore, we suggest the use of narrow and long Schlenk tube to avoid any splashing of the polymerization mixture.
Due to the reactivity of the polymerization mixture, samples for both NMR and GPC should be diluted immediately in order to avoid errors during kinetic sampling.
The inhibitor of monomers can be easily removed by passing over a plug of basic aluminium oxide. Due to the high viscosity of the OEGA480 monomer, larger volumes can be diluted in a volatile solvent to decrease viscosity. Evaporation of the solvent will provide the inhibitor-free monomer.
Read this exciting research for free until 25/11/2016 through a registered RSC account:
SET-LRP of acrylates catalyzed by a 1 penny copper coin
R. Aksakal, M. Resmini and C.R. Becer
Polym. Chem., 2016, 7, 6564-6569
DOI: 10.1039/C6PY01295G
—————-
About the webwriter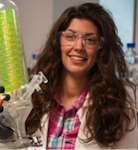 Dr. Athina Anastasaki is a web writer for Polymer Chemistry. She is currently an Elings fellow working alongside Professor Craig Hawker at the University of California, Santa Barbara (UCSB). Please visit this website for more information.