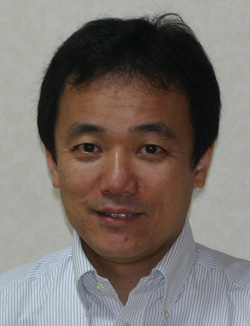 Masami Kamigaito was born in 1965 in Nagoya, Japan. He received his B.S. (1988), M.S. (1990), and Ph.D. (1993) in polymer chemistry from Kyoto University under the direction of Professor Toshinobu Higashimura. After conducting postdoctoral research with Professor Mitsuo Sawamoto, he joined the faculty of Kyoto University in 1995, where he was promoted to Associate Professor in 1999. In 2003, he moved to Nagoya University and worked as an Associate Professor with Professor Yoshio Okamoto. In 2004, he was promoted to Professor. From 1997–1998, he worked as a visiting scientist at Stanford University with Professor Robert M. Waymouth. He was the recipient of the 2001 Arthur K. Doolittle Award of the ACS PMSE Division, the 2009 Wiley Polymer Science Award of the Society of Polymer Science, Japan, and the 2010 Japan IBM Science Award (Chemistry). His research interests include controlled radical and cationic polymerizations, the development and application of new polymerizations to precision polymer synthesis, and controlled polymerizations of renewable vinyl monomers.
Please follow the link for further information on Masami's research group and his recent paper in Polymer Chemistry.
What was your inspiration in becoming a chemist?
My family. I have always been interested in the natural sciences. My father studied Physics at the University, as did my elder brother. My preference for Chemistry in high school and my desire to choose a different field from that of my father and brother led me to study Chemistry at the University.
What was the motivation behind the research in your recent Polymer Chemistry paper? (DOI: 10.1039/C1PY00401H)
Our group has worked on controlling the molecular weight, stereochemistry, and monomer sequence in radical polymerization by designing polymerization systems, including monomers, initiators, catalysts, and additives. Since I collaborated with Professor Yoshio Okamoto and learned stereospecific radical polymerization, we began researching the simultaneous control of molecular weight and tacticity and its application for the synthesis of novel types of controlled polymers. The RAFT copolymerization of bulky methacrylate and methacrylic acid, which have different reactivities and stereoselectivities, permitted the synthesis of stereogradient polymers, in which the tacticity can be varied from syndiotacticity to isotacticity.
Why did you choose Polymer Chemistry to publish your work?
This paper was submitted to a themed issue of New Methods of Polymer Synthesis, which was guest-edited by Professors Christopher Barner-Kowollik, Jean-François Lutz, and Sebastien Perrier, in which many readers working in this field have a strong interest. In addition, Polymer Chemistry is becoming one of the most attractive journals in polymer chemistry, as evidenced by the quality of the papers published therein.
In which upcoming conferences may our readers meet you?
Most certainly, I will be attending the 9th Society of Polymer Science Japan International Conference (IPC2012) at Kobe in Japan from 11/12/2012 to 14/12/2012, which will be announced at http://www.spsj.or.jp/english-index.htm, because I am a member of the Program Committee.
How do you spend your spare times?
I play with my three (9, 7, and 3 years old) children.
Which profession would you choose if you were not a scientist?
Archeologist. It is another profession I wanted to choose, because I had experiences in finding flint implements when I was a child.