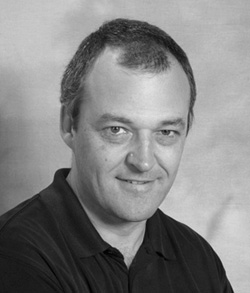 Steve P. Armes graduated with BSc (1983) and PhD (1987) degrees from Bristol University. Post-doctoral fellow at Los Alamos National Laboratory, New Mexico from 1987 to 1989. Academic at Sussex University for fifteen years (promoted to full Professor in 2000) being moving to a Personal Chair at Sheffield University in 2004. Currently Director of the Sheffield Polymer Centre, academic director of METRC and also a director of Farapack Polymers, a polymer services spin-out company. Published around 415 papers (H-index = 74) and named inventor on 16 patent applications. Awarded the RSC Macro Group prize for polymer science in 2007 and the RSC Peter Day prize for soft matter research in 2010. Recipient of a Royal Society-Wolfson Research Merit Award (2005-2009). Current research interests include: RAFT aqueous dispersion polymerisation; controlled-structure water-soluble polymers; block copolymer self-assembly; colloidal nanocomposite particles; stimulus-responsive polymers; conducting polymer particles; biocompatible block copolymers; branched copolymers; polymer brushes via surface polymerisation; macromonomers; novel sterically-stabilised latexes; interfacially-active particles for the preparation of Pickering emulsions and colloidosomes.
Please follow the link for further information on Steve's research group and his recent paper in Polymer Chemistry.
What was your inspiration in becoming a chemist?
I had a very good Chemistry teacher at high school who worked for Courtaulds before going into education. It was (and probably still is) unusual for school teachers to have some industrial experience. He 'lent' me various chemicals from his chemicals store at school to do lots of experiments in my bedroom, including the obligatory stink bombs, chemical rockets and loud bangs. I don't think that Health and Safety regulations would allow school teachers to inspire young students in quite the same way nowadays! I guess that my PhD supervisor Prof. Brian Vincent (now retired) also taught me the value of working closely with industry. Although my own PhD was not industrially sponsored, a substantial majority of my 45 or so PhD students have been either partially or fully-funded by a range of chemical companies. In addition to the financial support, I find that industrial supervisors provide a fresh perspective and often a new project direction, as well as lots of tough technical problems that academics would never dream up if we stayed in our 'ivory towers'.
What was the motivation behind the research in your recent Polymer Chemistry paper? (DOI: 10.1039/C1PY00406A)
In 1990 my first PhD student (Mike Gill, who works for 3M) serendipitously discovered a novel surfactant-free route to colloidal nanocomposite particles. This simply involves conducting polymerisations in the presence of an ultrafine silica sol, which becomes incorporated within the precipitating polymer nuclei. To date I have published around sixty papers in this area, so Mike's chance finding has been quite fruitful. Applications range from the pragmatic, such as the development of next-generation paint formulations (as exemplified by BASF scientists) to the prosaic, such as synthetic mimics for silicate-based micro-meteorites (which came out of my decade-long collaboration with space scientists such as Prof. M. J. Burchell at U. Kent). Over the last five years at Sheffield we have explored various aqueous emulsion polymerisation routes to colloidal nanocomposite particles. In this latest Polymer Chemistry article, Dr. Hua Zou evaluated an aqueous dispersion polymerisation route based on 2-hydroxypropyl methacrylate.
Why did you choose Polymer Chemistry to publish your work?
Polymer Chemistry is a high-quality new RSC journal that is a natural outlet for advances in synthetic polymer chemistry. Based on the articles published in it to date, it is likely to have a high impact factor and should provide strong competition for Polymer, J. Polym. Sci. Polym. Chem. and perhaps even Macromolecules.
In which upcoming conferences may our readers meet you?
In 2012 I plan to attend the Spring MRS meeting in San Francisco and also the Warwick 2012 conference on synthetic polymer chemistry organised by Prof. Dave Haddleton and his colleagues. I haven't decided whether to go to the Fall ACS meeting in Philadelphia yet.
How do you spend your spare time?
According to my wife, I spend my spare time working! I don't have any particular hobbies, but I relax by reading the Guardian newspaper, watching football on TV and walking in the beautiful Peak District, which is a ten-minute drive from my house in Sheffield.
Which profession would you choose if you were not an academic?
At the age of fourteen, I had to choose certain optional courses at high school. I wanted to take a 'practical' course in car mechanics but my school said that I had to choose something more 'academic'. The only other options were History and Chemistry. I knew that I didn't care for History, so I chose Chemistry, although I didn't really appreciate what I was choosing (this was in the days of 'general science' at high schools). That was definitely my lucky break. The school careers advice was to become an accountant, which sounded boring but lucrative (and still does). I completed my PhD studies in 1987, which was a period of economic boom in the UK. Every graduating PhD student I knew had multiple job offers because all the big companies (Unilever, BP, Shell, Exxon, ICI etc.) were competing with each other to recruit the best young scientists. That situation seems crazy compared to that facing young scientists today, although fortunately all the ex-members of my research group have secured good positions in either academia or in industry.  I received job offers from ICI, BP and Unilever but decided instead to take a two-year post-doctoral position at Los Alamos National Laboratory in New Mexico. It was only towards the end of my two years in the USA that I began to wonder whether I could become an academic. I applied for just one Lectureship position, which was advertised at Sussex University. Although having some initial misgivings about whether I could actually do the job, I have never found myself wondering 'what if' over the last two decades. I was very fortunate to have the opportunity to learn a lot from my colleague Prof. Norman Billingham and Sussex was certainly a great place to be an academic for the first fifteen years of my career. It is clearly a lot tougher being a young academic today – there is much stronger competition for research funds.