Here is a selection of the latest referee-recommended articles in ChemComm:
Diffusion of vaporous guests into a seemingly non-porous organic crystal
Simon A. Herbert, Agnieszka Janiak, Praveen K. Thallapally, Jerry L. Atwood and Leonard J. Barbour  
Chem. Commun., 2014,50, 15509-15512
DOI: 10.1039/C4CC07366E, Communication
---
Azobenzene-based chloride transporters w
ith light-controllable activities

Ye Rin Choi, Gyu Chan Kim, Hae-Geun Jeon, Jinhong Park, Wan Namkung and Kyu-Sung Jeong  
Chem. Commun
., 2014,50, 15305-15308
DOI: 10.1039/C4CC07560A, Communication
---
Fluorescent polymers from non-fluorescent photoreactive monomers

Jan O. Mueller, Dominik Voll, Friedrich G. Schmidt, Guillaume Delaittre and Christopher Barner-Kowollik  
Chem. Commun
., 2014,50, 15681-15684
DOI: 10.1039/C4CC07792J, Communication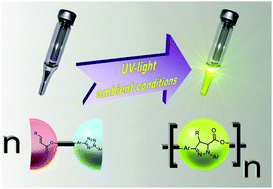 ---
Is it possible to achieve a complete desaturation of cycloalkanes promoted by o-benzyne?
Francisco Cervantes-Navarro, Abel de Cózar, Fernando P. Cossío, María A. Fernández-Herrera, Gabriel Merino and Israel Fernández  
Chem. Commun
., 2015, Advance Article
DOI: 10.1039/C4CC07311H, Communication
---
Thiol-modified gold nanoparticles for the inhibition of Mycobacterium smegmatis
Jennifer C. Gifford, Jamee Bresee, Carly Jo Carter, Guankui Wang, Roberta J. Melander, Christian Melander and Daniel L. Feldheim  
Chem. Commun
., 2014,50, 15860-15863
DOI: 10.1039/C4CC06236A, Communication
---
Redox-responsive organometallic hydrogels for in situ metal nanoparticle synthesis
B. Zoetebier, M. A. Hempenius and G. J. Vancso  
Chem. Commun
., 2015, Advance Article
DOI: 10.1039/C4CC06988A, Communication