Aziridines are used extensively as intermediates for organic synthesis. The strained three-membered heterocycles reveal amino groups on ring-opening and therefore provide access to a variety of useful products. Enantioselective methods for forming aziridine rings are highly desirable because enantiopure amino-compounds represent important targets for both natural product synthesis and in the discovery of novel therapeutics.
Researchers from Kyushu University in Japan have reported a newly designed Ru(CO)salen complex (4), which acts as an efficient catalyst for asymmetric aziridination of alkenes.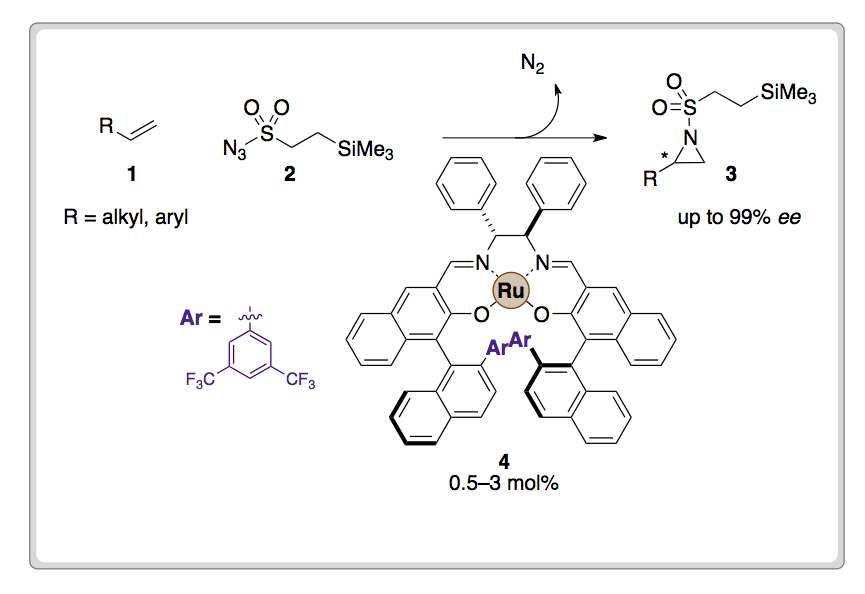 Reaction of olefinic substrates (1) with 2-(trimethylsilyl)ethanesulfonyl (SES) protected azide (2) in the presence of the Ru(CO)salen complex 4 afforded enantioenriched aziridine products. 4 efficiently decomposes azides under ambient conditions and also catalyses asymmetric aziridination.
Judicious selection of an appropriate azide protecting-group also influenced the design of the catalyst. The researchers chose to include an appropriately located C–F  bond within the ligand in order to improve tolerance of 4 to reacting electrophiles.
Low catalyst loadings enabled the highly enantioselective azirdination of a variety of substrates possessing conjugated or non-conjugated terminal or cyclic olefins.
Find out more – download the communication for free for a limited period.