Researchers from Lisbon have developed a mild and efficient catalytic system for reducing sulfoxides. They made the iron-N-heterocyclic carbene (NHC) catalysts (2) via C–H activation of an imidazolium pro-ligand (1) with commercially available Fe3(CO)12. This advance precludes the requirement for the strong bases traditionally employed in the synthesis of similar complexes. Additionally, iron is an economically attractive metal for use in catalysis owing to its abundance and is also non-toxic and therefore more environmentally friendly than other transition metals.

The combination of iron(ll) complex (2) with a silver salt and a silane reducing agent led to the conversion of a range of sulfoxides into the corresponding sulfides in good to excellent yields. Initial mechanistic probes suggest the existence of a free-radical based reaction pathway, although further studies are ongoing.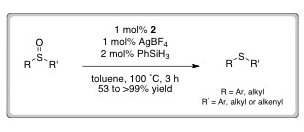 In this publication, Beatriz Royo's group have demonstrated an interesting advance for the synthesis of iron-NHC complexes, which may find further utility in other catalytic processes.
Posted on behalf of Alice Williamson, ChemComm web writer.