Synthesising intriguing bioactive natural products in the most expedient and atom-efficient manner remains a highly active and competitive field of research. Cortistatins A and J, first isolated from the marine sponge Corticium simplex in 2006, have been identified as effective anti-angiogenics, which studies have found could suppress cancer recurrence when given in conjunction with traditional cancer drugs.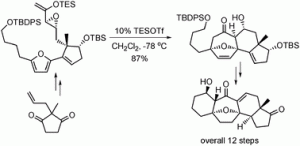 Lok Lok Liu and Pauline Chiu at the University of Hong Kong have reported a concise, high yielding, asymmetric synthesis of the pentacyclic framework of the cortistatins, in 12 steps from commercially available starting materials. Their synthesis employs a highly diastereoselective intramolecular [4+3] cycloaddition of epoxy enolsilanes as the key step and brings them close to their ultimate goal.
To find out more, download the ChemComm communication for free up until March 28th
To start a discussion, leave your comments below and for a related blog post see the Totally Synthetic blog pages.