Scientists in China have developed an absorbent material made from waste eggshell membrane that can remove Cr(VI) from contaminated water.
Chromium is usually found in water systems in two main states: Cr(III) and Cr(VI). But, while Cr(III) is needed for metabolism, Cr(VI) is highly toxic and carcinogenic to living organisms, and unfortunately, this form is highly mobile.
This ability to move quickly in a system means that developing an efficient and cost effective method to remove Cr(VI) from contaminated water is important. Current methods for removal include reduction, ion exchange and absorption. Of these, absorption is popular because it is simple and effective.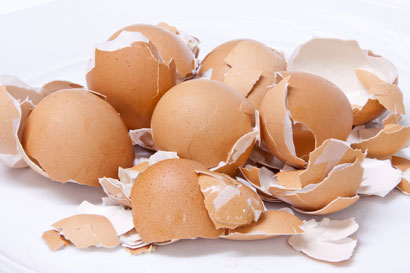 Not only did the eggshell membrane remove Cr(VI) from contaminated water, it also reduced some of it to the less toxic Cr(III)
Biosorption is a type of absorption that uses a material that is not man-made, usually some kind of waste material. Yuming Huang and Bin Liu from Southwest University, Chongqing, have designed a new biosorbent using eggshells. 'As the by-product of food processing and manufacturing plants, eggshells represent a significant waste because they are traditionally useless after the production of eggs and egg derivatives,' says Huang. 'Using this waste to produce useful biomaterial for removal of Cr(VI) from water may be a good choice and opens up a pathway to using biowaste to treat toxic metals from water.' Interested to know more? Read the full article in Chemistry World here…
Polyethyleneimine modified eggshell membrane as a novel biosorbent for adsorption and detoxification of Cr(VI) from water
Bin Liu and Yuming Huang
J. Mater. Chem., 2011
DOI: 10.1039/c1jm12329g