Early Stage Investigator Honorees of the ACS Polymeric Materials Science & Engineering Division
Guest edited by Emily Pentzer and Luis Campos
We are delighted to present to you this special collection, a collaboration between the Royal Society of Chemistry (RSC) and the American Chemical Society (ACS), aiming to highlight the outstanding work of those who were honoured recently by the ACS Polymeric Materials Science and Engineering (PMSE) division as Early Career Investigators.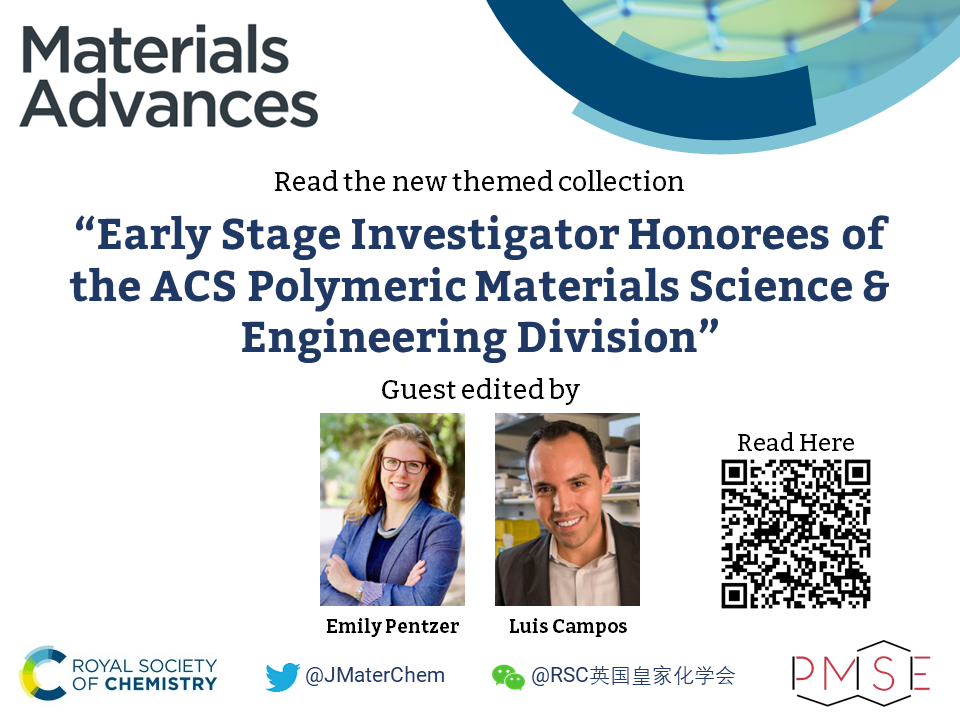 This collection in Materials Advances features diverse work from these rising stars, aiming to provide an inclusive, open access and interdisciplinary home for quality polymeric materials research. Both the ACS and RSC are dedicated to supporting this community through publishing, awards, and events.
We hope that readers will enjoy learning about the breadth of research occurring in polymeric materials from reading these papers, with topics ranging from battery applications to biosensing, and develop new ideas for utilizing these transformative materials.
Read some of the featured articles below!
Fiber-reinforced quasi-solid polymer electrolytes enabling stable Li-metal batteries
Shilun Gao, Youjia Zhang, Mengxiang Ma, Zhenxi Li, Zongxue Sun, Ming Tian, Huabin Yang and Peng-Fei Cao
Mater. Adv., 2023, 4, 3452-3460 DOI: 10.1039/D3MA00078H
Interfacial stabilization of aqueous two-phase systems: a review
Caitlyn Fick, Zara Khanb and Samanvaya Srivastava
Mater. Adv., 2023, 4, 4665-4678 DOI: 10.1039/D3MA00307H
Bio-based non-isocyanate poly(hydroxy urethane)s (PHU) derived from vanillin and CO2
Noé Fanjul-Mosteirín, Lucas Polo Fonseca, Andrew P. Dove and Haritz Sardon
Mater. Adv., 2023, 4, 2437-2448 DOI: 10.1039/D3MA00111C
We'd also like to congratulate the 2023 winners of the PMSE Early Stage Investigator Awards. We are looking forward to seeing more great work from these emerging leaders in the field of polymer science and engineering!
We hope you enjoy reading the special collection.
Materials Advances is always interested in considering high-quality articles on polymeric materials and we would be delighted if you would consider our journal for your next submission, which can be made via the Materials Advances online submission service. All submissions will be subject to initial assessment and peer review as appropriate according to the journals' guidelines.