We are delighted to invite papers for a new themed collection on Structure-property relationships in Alloys, to be published in Materials Advances, a gold open access journal from the Royal Society of Chemistry.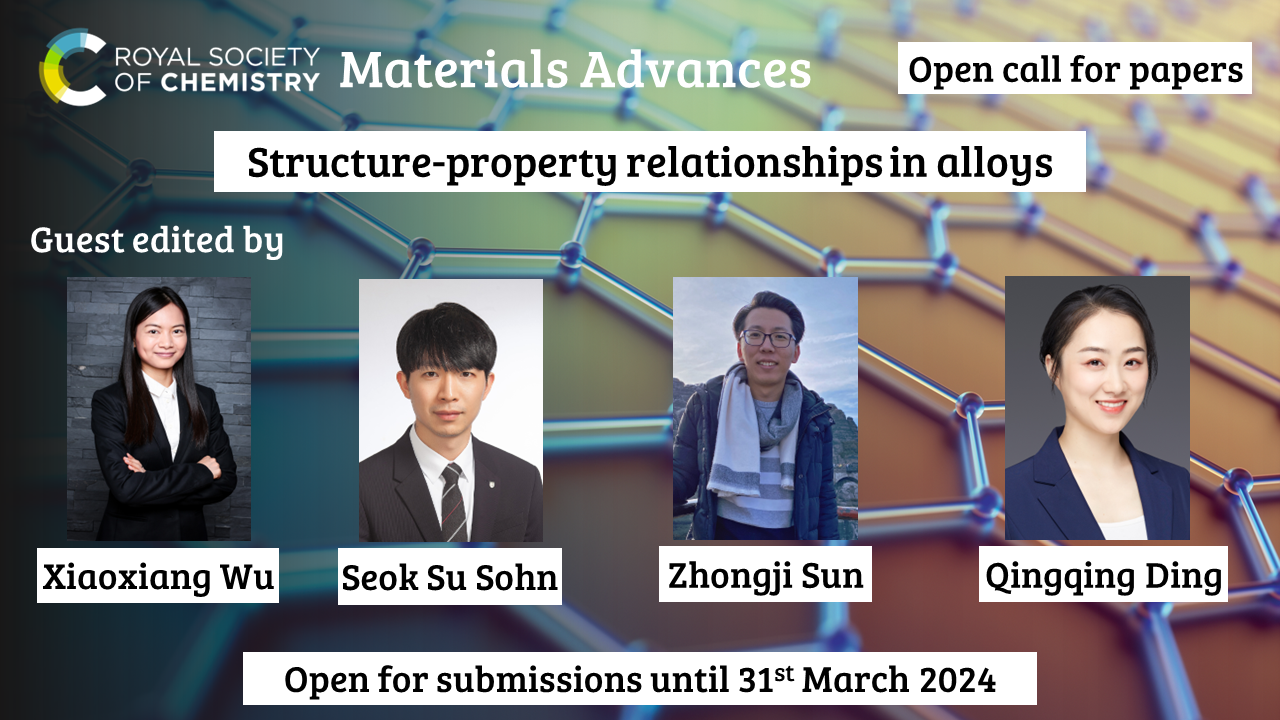 Guest Editors: Professor Xiaoxiang Wu (Soochow University, China), Professor Seok Su Sohn, (Korea University, South Korea), Dr Zhongji Sun (A STAR, Singapore), Professor Qingqing Ding (Zhejiang University, China)
We welcome submissions that focus on the structure-property relationships that paves the way for further alloy development. Special focus is placed on (but not limited to) the following fields:
Alloy design theory and methods
Alloy fabrication and processing (casting, additive manufacturing, etc.)
Properties and Deformation mechanisms of alloys, especially in the harsh conditions
Advanced characterization and simulation of metallic materials
Submit before 31st March 2024!
All submitted papers will go through the standard peer review process of Materials Advances and should meet the journal's standard requirements as well as fit into the general scope of materials science.
Manuscripts can be submitted here https://mc.manuscriptcentral.com/ma
Please add a "note to the editor" in the submission form when you submit your manuscript to say that this is a submission for this themed collection. The Editorial Office and Guest Editors reserve the right to check suitability of submissions in relation to the scope of the collection and inclusion of accepted articles in the collection is not guaranteed. Accepted manuscripts will be added to the collection as soon as they are online, and they will be published in a regular issue of Materials Advances.