An infographic highlighting how machine learning and ab-initio methods can be used to identify suitable materials
Complex amorphous oxides: property prediction from high throughput DFT and AI for new material search
Michiel J. van Setten, Hendrik F. W. Dekkers, Christopher Pashartis, Adrian Chasin, Attilio Belmonte, Romain Delhougne, Gouri S. Kar and Geoffrey Pourtois
Mater. Adv., 2022,3, 8413-8427 DOI: D2MA00759B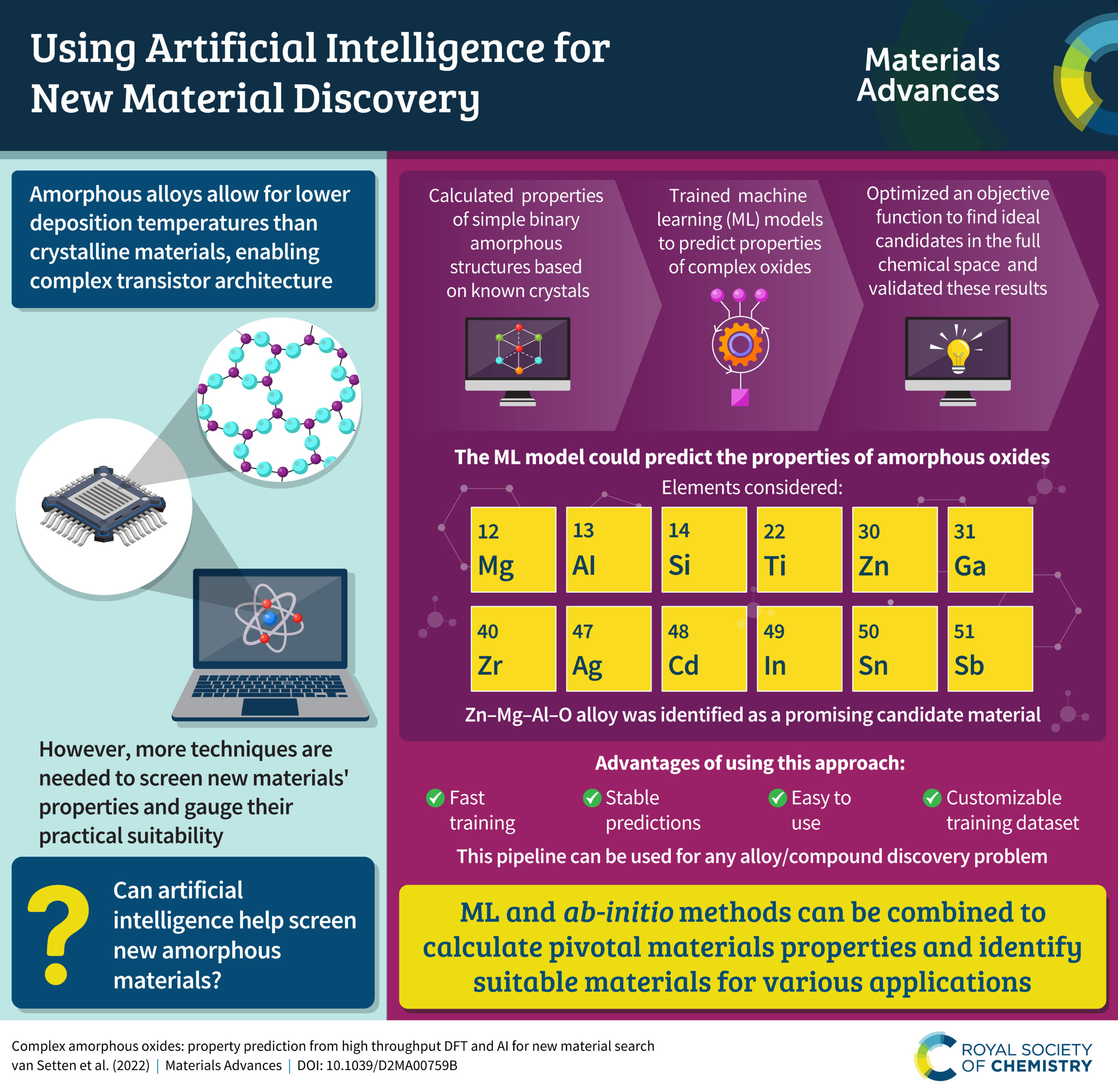 Meet the authors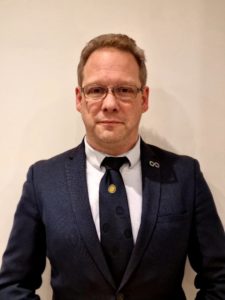 Dr. Michiel J. van Setten got his PhD. in 2008 from the Radboud University Nijmegen after working metal hydrides for hydrogen storage. After a postdoc at the Kalsruhe Institute of Technology, working the development of hydrogen storage materials and electronic structure methods for molecules, and a postdoctoral stay at the Universite Catholique de Louvain, working on many-body perturbation theory, pseudo-potential development and materials informatics he presently works as a principal scientist at imec. Here he works on the use and development of materials informatics and the linking of ab initio methods to metrology for the semiconductor industry.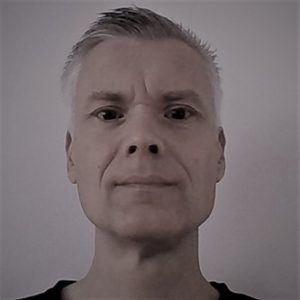 Hendrik (Harold) F.W. Dekkers graduated in industrial engineering of applied physics in 1994. After working for the semiconductor equipment vendor ASM he joined the research group of silicon photovoltaic devices at imec in Leuven (Belgium) in 1999. In 2008 he received his Ph.D. at the Catholic University of Leuven (KUL) on the vacuum process techniques for silicon solar cell manufacturing. In 2007 he joined the Thin Films group of imec, being responsible for plasma-enhanced CVD processes in the front-end-of-line (FEOL) and the development of work-function metals. Currently he is involved in developing semiconducting oxides for several applications in nanotechnology.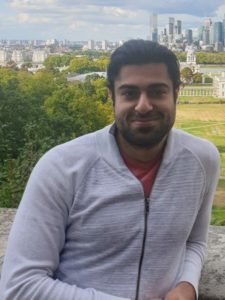 Christopher Pashartis pursued his undergraduate degree in Mathematical Physics (co-op) at the University of Waterloo in Canada, finishing in 2015. After graduating, he began his interest in Density Functional Theory semiconductor research, pursuing a Masters of Applied Science at McMaster University, concluding in 2017. In 2018, he began his Doctor of Philosophy in Physics with Dr. Geoffrey Pourtois and Prof. Michel Houssa at KU Leuven and imec, Belgium, where he now resides a researcher. His areas of interest include mechanical and optical properties of materials, quantum physics, ab-initio computational techniques, machine learning, and software design.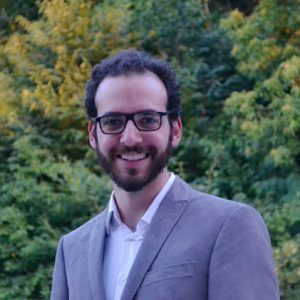 Adrian Chasin is a Principal Member of Technical Staff (PMTS) and the R&D leader of the FEOL Reliability team at imec. He is involved in several logic/memory projects ranging from advanced devices architectures through new memory concepts to use of non-conventional semiconducting materials. He received the PhD in Electrical Engineering from the University of Leuven in 2014 under the supervision of Prof. Paul Heremans, when he developed devices based on new semiconducting oxides for display and flexible electronics targeting RF applications. After working at NXP on modelling/evaluation of CMOS technologies, he joined the imec reliability group in 2015 as a researcher. His main research interests are FEOL/MOL reliability in advanced CMOS technologies and thin-film devices for memory and BEOL applications. He authored and co-authored more than 150 publications.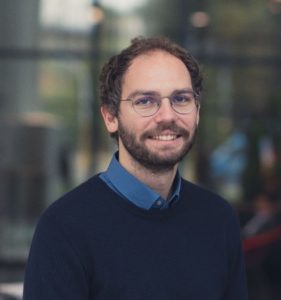 Attilio Belmonte is a Principal Member of Technical Staff and R&D team leader of the Memory Device team at imec, Belgium. His activities are related to the design, electrical characterization, and physical understanding of various memory devices, namely resistive RAM and DRAM. He received his PhD in Physics from Katholieke Universiteit Leuven, Belgium, in 2015, with a dissertation on novel CBRAM devices, and he joined imec as a researcher in the same year. His current focus is on the device engineering of oxide-semiconductor TFTs for 3D-DRAM implementation. He has authored and co-authored more than 75 journal and conference publications.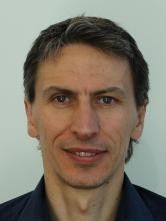 Romain Delhougne received his material science MSc degree from the University of Strasbourg in 2001 and started his carrier as epitaxy research engineer at IMEC in 2001. He joined Philips Research Leuven (later NXP) in 2005, where he has been leading for 10 years the integration of PCRAM and GaN power devices. He joined back IMEC in 2015 as a 3D-NAND integration engineer, and took the Active Memory Program manager role from 2018 onwards.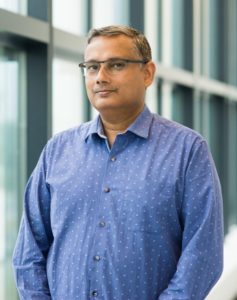 Gouri Sankar Kar received a PhD degree in semiconductor device physics from the Indian Institute of Technology, Kharagpur, India in 2002. From 2002 to 2005, he was a visiting scientist at Max Planck Institute for Solid State Research, Stuttgart, Germany, where he worked with Nobel Laureate Prof. Klaus von Klitzing on quantum dot FET. In 2006, he joined Infineon/Qimonda in Dresden, Germany as lead integration engineer. There he worked on the vertical transistor for DRAM application. In 2009, he joined imec, Leuven, Belgium, where he is currently the senior program director. In this role, he defines the research strategy and vision for DRAM, MRAM, Emerging Memory, and Exploratory Logic (MX2, Spin logic, etc.) solutions that can be integrated into existing computing system architecture for better performance & lower-power computing.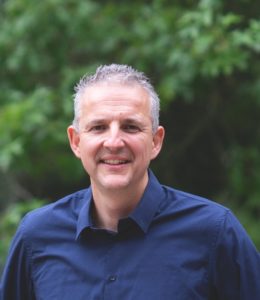 Geoffrey Pourtois studied Chemistry (1997) and obtained a PhD in Chemistry (2002) at the university of Mons Hainaut, Belgium. In 2003, he joined imec in Belgium, where he has been working in the field of atomistic modeling, with a special attention for establishing relations between material, interface defects and electrical device performances. From 2003 to 2022, he has been building and heading the group of material simulation and physics in imec, where he has been focusing on the modeling, using atomistic simulations, of nanoelectronic related materials. His group is being involved in building fundamental insights into the relations between material, interface and device electrical performances for CMOS, memory, and exploratory devices concepts. During their exploration endeavour, his team studied complex material gate stacks involved in CMOS and memory applications and contributed to the identification and the study of new materials for interconnect, emerging and magnetic memories. He was nominated imec fellow in 2020 and (co-) authored ~ 340 oral and peer-reviewed publications.
An interview with the authors
What aspect of your work are you most excited about at the moment and what do you find most challenging about your research?
At imec, we work on the edge between academia and industry, in particular the semi-conductor industry. The state-of-the-art industry level equipment we have in our clean rooms mean we can do fundamental research that is at the same time directly relevant for a close to trillion-dollar industry. The semiconductor industry on its own lives on the crossroads between fundamental physics, etch chemistry, photo chemistry, computational solid-state physics, and electrical engineering, touching on many aspects of materials science. We work on many different topics in teams combining experts from all these fields. These many interactions and the fact that predictions we make based on the calculations, such as presented in our latest paper, are tested on the same process flows and machines that the big tech giants use to produce the chips that are present in all the devices around us, makes my work extremely exciting.
How do you feel about Materials Advances as a place to publish research on this topic?
I had a constructive and efficient interaction with the editors of Materials Advances in the process of publishing the paper. Also, topic wise I think the journal is fitting well, many of the recently appeared papers fit well to my general interest.
Can you share one piece of career-related advice or wisdom with other early career scientists?
If I look at the young researchers around me, I see they all struggle a bit with the dilemma between acting and rethinking. I mostly see this leading to overthinking. Young researchers should act. If you have a good idea, pursue it, and go into it head on. Don't spend months or even years reconsidering and rechecking the literature. The older more experienced colleagues should be there to prevent you from reinventing the wheel. I have seen examples of both rethinking and acting fast, both in my own career and in those of people around me. Hardly ever did following an idea turn out a disaster. On the other hand, I have seen various examples of none pursued good ideas eventually being executed by other groups.