Meet the authors and find out more about their research
White light emission generated by two stacking patterns of a single organic molecular crystal
Yuma Nakagawa, Kuon Kinoshita, Megumi Kasuno, Ryo Nishimura, Masakazu Morimoto, Satoshi Yokojima, Makoto Hatakeyama, Yuki Sakamoto, Shinichiro Nakamura and Kingo Uchida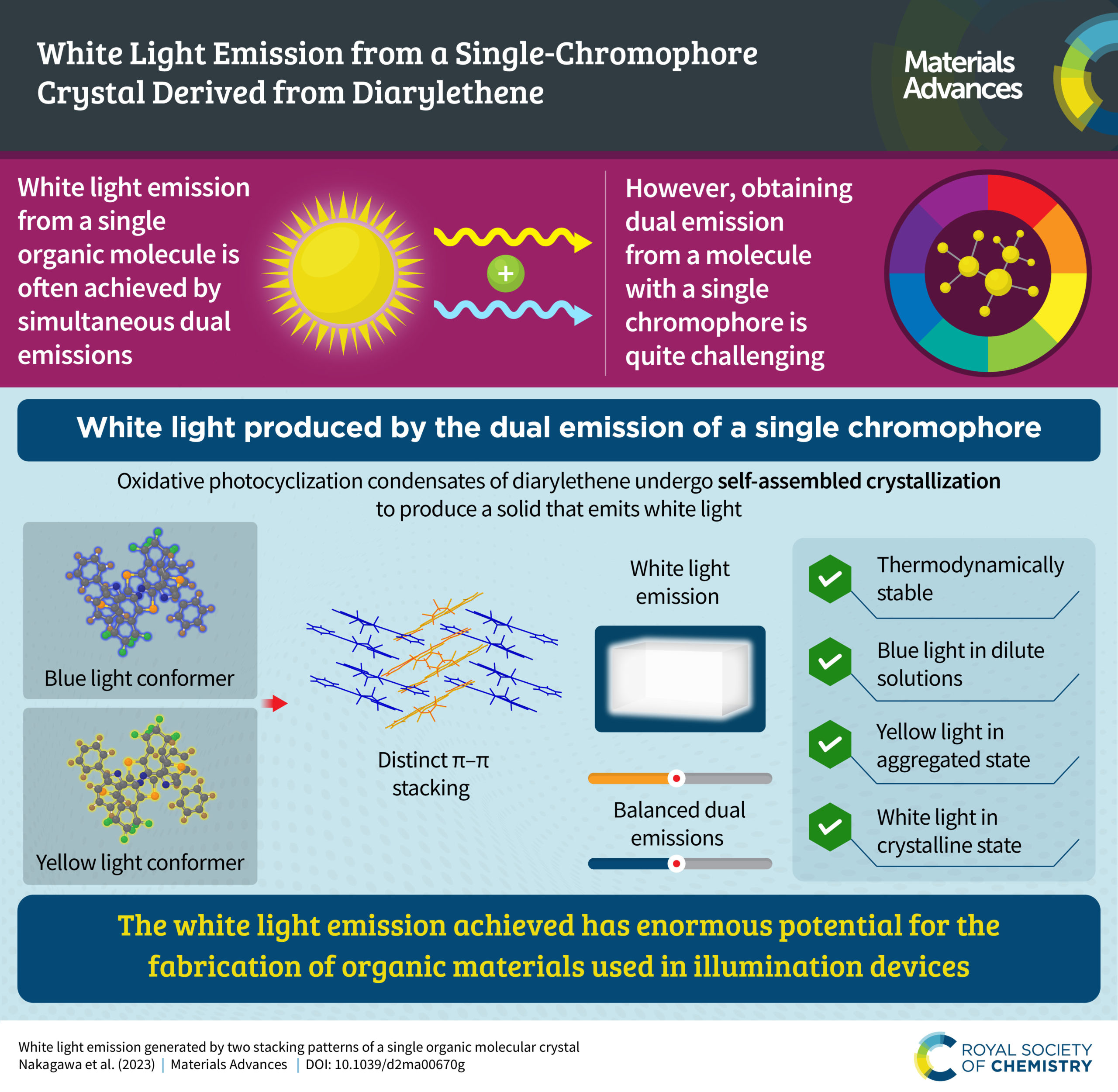 Meet the authors
| | |
| --- | --- |
| | Yuma Nakagawa received his B.S. (2018), M.S. (2020), and Ph.D. (2023) degrees from Ryukoku University. He has been a postdoctoral researcher at the Molecular Engineering Institute, Shiga University of Medical Science since 2023. His current interests are development of organic functional materials and their applications. |
| | Kuon Kinoshita received bachelor's degree in science and technology from Ryukoku University, Japan, in 2019 and completed master's degree in Teaching English to Speakers of Other Languages (TESOL) from Nottingham Trent University, UK, in 2021. |
| | Megumi Kasuno received her Ph D. from Kyoto Institute of Technology in 2005. She was engaged in National Institute of Advanced Industrial Science and Technology, and moved to the present address at Ryokoku University in 2006. |
| | Ryo Nishimura received his Ph. D. (2020) from Ryukoku University under the supervision of Professor Kingo Uchida. He has been working as a JSPS Young Research Fellow (PD) at Ryukoku University. From 2021, he has been working at Rikkyo University as an assistant professor. |
| | Masakazu Morimoto received his B.S. (2001), M.S. (2003), and Ph.D. (2006) degrees from Kyushu University. Then, he engaged as a postdoctoral researcher at the Graduate School of Science, Tohoku University. In 2007, he moved to the Department of Chemistry, Rikkyo University, as an assistant professor. He was appointed as an associate professor at the same university in 2010 and was promoted to a full professor in 2017. His research interests include the development of advanced photofunctional molecules and materials. |
| | Satoshi Yokojima studied physics at Keio University. After receiving PhD in 1995, he worked on optical response at University of Rochester. In 1997, he moved to University of Hong Kong and developed a method for linear scaling. After working on dissipative systems, he moved to University of Tsukuba and studied a charge transfer in DNA. He then moved to Mitsubishi Chemical in 2005 and worked on photochromic systems. He moved to Tokyo University of Pharmacy and Life Sciences in 2011 and promoted to Professor in 2016. His current interests are photochemistry, computational chemistry, and biophysics. |
| | Makoto Hatakeyama obtained his undergraduate Bachelor and Masters degrees at the Yokohama City University in 2007 and 2009, respectively. He completed his PhD degree in 2012 at the Tokyo Institute of Technology in the group of Prof. Shinichiro Nakamura. He then undertook post-doctoral research at the RIKEN Research Cluster for Innovation. In 2018, he was appointed as a Lecturer at the Sanyo-Onoda City University. His research interests involve the quantum chemistry, molecular photophysics, and photoprotection mechanisms in biologically related molecules. |
| | Yuki Sakamoto received his Ph.D. from Tokyo Institute of Technology in 2018. He studies functional molecules and catalysts using theoretical calculations. |
| | After Ph.D. in 1984 at Universite de Strasbourg, France, Shinichiro Nakamura started industrial Computational Science in Mitsubishi Chemical Research Center for 26 years. Then, he moved to RIKEN 2011~2022, the focus is on the mechanism of natural photosynthesis. In 2022, he moved to Kumamoto University. The central subject of his research is the design of industrial photonic materials as well as studies on data science. |
| | Kingo Uchida received his Ph.D. from Kyushu University in 1996. He was promoted to Professor in 2002. His recent interests lie in development of photoresponsive surfaces, and biological applications. |
(a) What aspect of your work are you most excited about at the moment and what do you find most challenging about your research?
We are surprised to see the white fluorescence from ordered molecular packing in the crystalline state. Photochromic diarylethenes are well-known compounds, and many papers were already published, however the oxidized derivative showed unexpected results. Studying a compound from many view points is challenging.
(b) How do you feel about Materials Advances as a place to publish research on this topic?
Materials Advances is an international gold open access journal, which makes our results freely available to a large audience of readers. This provides a very significant environment for scientists like us.
(c) Can you share one piece of career-related advice for early career scientists?
It is important to develop your original works. Careful watching and deep consideration of the results sometimes induce serendipity.