Journal of Materials Chemistry A and Materials Advances are delighted to welcome Professor Lydia Helena Wong from Nanyang Technological University (NTU), Singapore, to our Editorial Boards as a new Associate Editor.
Lydia Helena Wong is an Associate Professor at the School of Materials Science and Engineering (MSE), Nanyang Technological University (NTU), Singapore. After obtaining her PhD from NTU, she worked as a Senior Engineer at Chartered Semiconductor and completed a short stint as post-doc at Stanford University.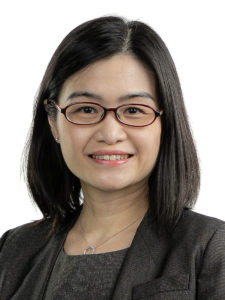 'I look forward to working with the vibrant members of Journal of Materials Chemistry A and Materials Advances editorial teams and receiving manuscripts in innovative materials chemistry approaches for efficient and sustainable clean energy generation.'
Lydia's research interests include solution-based synthesis and characterizations of inorganic semiconductors and their applications in solar cells, solar water splitting and electrocatalytic fuel generation. She is particularly interested in novel strategies to enhance solar cell efficiency, printable solar harvesting devices, discovery of materials by high throughput methods and understanding of structure-property relationship of inorganic materials for energy applications.
She has published more than 150 publications in international peer reviewed journals, including several high efficiency emerging chalcogenide solar cells. Lydia currently serves on the Editorial Advisory Board of Solar RRL and is a recipient of the Nanyang Education Award (2013 and 2021), Honored Teacher of Koh Boon Hwee Award, and MSE Teacher of the Year award.

Check out some of Lydia's recent publications in Royal Society of Chemistry journals:
Comprehensive physicochemical and photovoltaic analysis of different Zn substitutes (Mn, Mg, Fe, Ni, Co, Ba, Sr) in CZTS-inspired thin film solar cells
Stener Lie, Maxim Guc, Venkatesh Tunuguntla, Victor Izquierdo-Roca, Susanne Siebentritt and Lydia Helena Wong
J. Mater. Chem. A, 2022,10, 9137-9149 DOI: 10.1039/D2TA00225F
Highly efficient and thermally stable Sb2Se3 solar cells based on a hexagonal CdS buffer layer by environmentally friendly interface optimization
Huafei Guo, Xuguang Jia, Shreyash H. Hadke, Jiayi Zhang, Wei Wang, Changhao Ma, Jianhua Qiu, Ningyi Yuan, Lydia H. Wong and Jianning Ding
J. Mater. Chem. C, 2020,8, 17194-17201 DOI: 10.1039/D0TC04017G
Improving the interfacial properties of CZTS photocathodes by Ag substitution
Ying Fan Tay, Shreyash Sudhakar Hadke, Mengyuan Zhang, Nathan Lim, Sing Yang Chiamd and Lydia Helena Wong
J. Mater. Chem. A, 2020,8, 8862-8867 DOI: 10.1039/D0TA02042G
Join us in welcoming Lydia to our Editorial Boards!
Submit your best work to Lydia Helena Wong and our team of Associate Editors on Journal of Materials Chemistry A and Materials Advances now! Check out our author guidelines for information on our article types or find out more about the advantages of publishing in a Royal Society of Chemistry journal.
Keep up to date with our latest articles, reviews, collections & more by following us on Twitter, Facebook or by signing up to our E-Alerts.