Journal of Materials Chemistry A are delighted to welcome Dr Satish Patil from Indian Institute of Science, Bangalore to our Advisory Board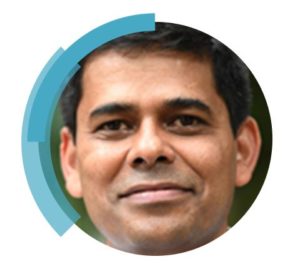 Dr Satish Patil is Professor and Chair at the Solid State and Structural Chemistry Unit, Indian Institute of Science, Bangalore (India,) and here is what he had to say about his appointment to the Journal of Materials Chemistry A family:
What does it mean to you to join the Advisory Board of Journal of Materials Chemistry A?
I am delighted to be part of the Journal of Materials Chemistry A. I believe peer review is vital to scientific evaluation. The advisory board role will allow me to help the journal make decisions to promote seminal or outstanding scientific findings and influence future research.
What is the current biggest challenge you face in your field?
Climate change is not only for any specific field but one of the biggest challenges faced by humanity. In the near future, renewable energy is becoming a significant part of the mix of energy production in many parts of the world. Still, innovation of cost-effective, environmentally friendly, and sustainable new technology is required to leverage renewable sources to the full extent.
What in your field are you most excited about?
Emerging technologies based on organic materials include quantum technologies, neuromorphic computing organic solar cells, light-emitting diodes, photodetectors, and electrochemical transistors. I am also equally excited about the role of organic materials in energy storage devices such as redox flow batteries.
Why do you feel that researchers should choose to publish their work in Journal of Materials Chemistry A?
Journal of Materials Chemistry A is interdisciplinary, covers a broad range of topics and has a strong history of publishing quality science. The editorial board members are very active in the field of interdisciplinary research. They provide rigorous service through peer review to accelerate the dissemination of scientific findings.