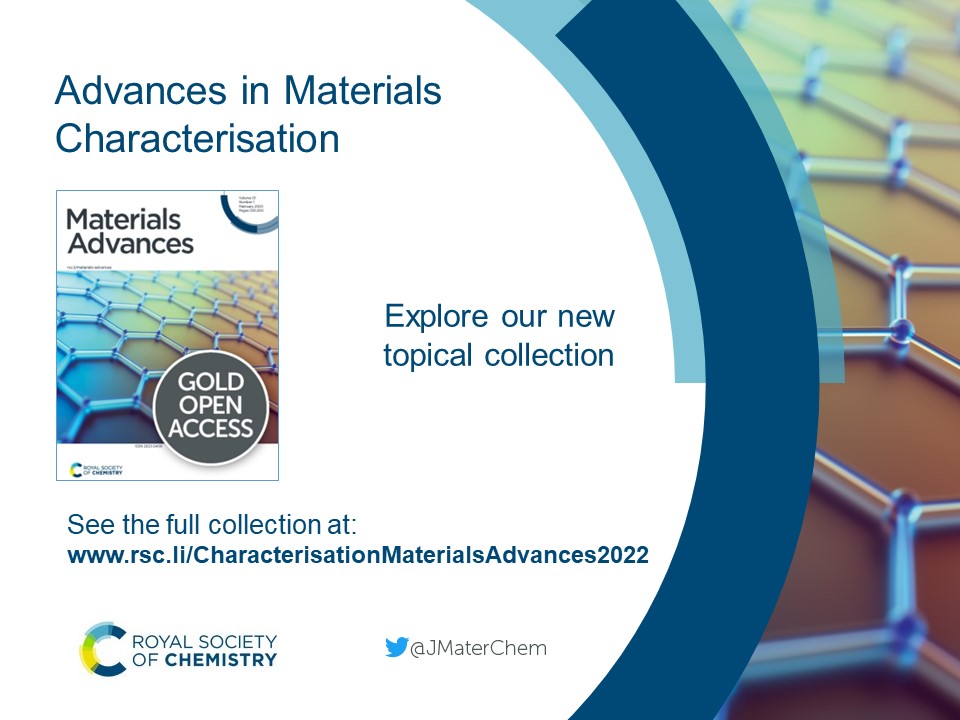 We are delighted to share with you a new collection of articles highlighting some of the most popular recent articles published in Materials Advances on the characterisation of materials. Containing both reviews and original research, the collection includes work on new characterisation methods as well as applications to a variety of systems from MOFs to nanomaterials.
Below is a snapshot of some of the papers in the collection. We hope you enjoy reading these gold open access articles, which are all free to access.
Review
The emergence of mass spectrometry for characterizing nanomaterials: atomically precise nanoclusters and beyond
Clothilde Comby-Zerbino, Xavier Dagany, Fabien Chirot, Philippe Dugourd and Rodolphe Antoine
Mater. Adv., 2021, 2, 4896-4913
DOI: 10.1039/D1MA00261A
Communication
The surface-enhanced resonance Raman scattering of dye molecules adsorbed on two-dimensional titanium carbide Ti3C2Tx (MXene) film
Satheeshkumar Elumalai,  John R. Lombardi and Masahiro Yoshimura
Mater. Adv., 2020, 1, 146-152
DOI: 10.1039/D0MA00091D
Paper
Effect of conductivity, viscosity, and density of water-in-salt electrolytes on the electrochemical behavior of supercapacitors: molecular dynamics simulations and in situ characterization studies
Débora A. C. da Silva, Manuel J. Pinzón C., Andresa Messias, Eudes E. Fileti, Aline Pascon, Débora V. Franco, Leonardo Morais Da Silva and Hudson G. Zanin
Mater. Adv., 2022, 3, 611-623
DOI: 10.1039/D1MA00890K
Sign up now to keep up to date on Twitter, Facebook, and our e-alerts.