Journal of Materials Chemistry B are delighted to announce an open call for submissions to our themed collection on 'Materials, Physical and Biological Chemistry of Protein Cages'.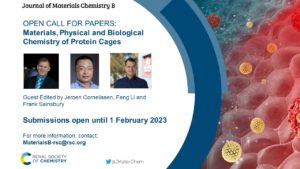 Guest Edited by:
Prof. Jeroen Cornelissen (University of Twente, the Netherlands)
Prof. Feng Li (Wuhan Institute of Virology, Chinese Academy of Sciences, China)
Dr Frank Sainsbury (Griffith University, Australia)
Protein cages are highly ordered macromolecules that can be genetically encoded and chemically modified. They are characterized by well-defined structures, controllable self-assembly, capacity for cargo loading, and facile chemical or genetic engineering. Protein cages hold great potential as versatile platforms in diverse fields. Applications include biomedicine and drug delivery; enzymology and biocatalysis; bioinspired materials and templates for inorganic chemistry. These applications are underpinned by fundamental science drawing on the fields of biological chemistry, biophysics, physical chemistry, and computational chemistry.
In this context, it is pertinent to compile this themed collection on the materials, physical and biological chemistry of protein cages. To this end, this themed collection of Journal of Materials Chemistry B aims at providing a platform for recent developments in this rapidly evolving field of protein cages including, de novo design, biophysics of self-assembly, permeability, biocatalytic nanoreactors, artificial organelles, delivery of bioactive molecules, bioimaging and biosensing, multifunctional nanodevices and other applications. We hope that readers find this themed collection informative and that it will act as an up-to-date insight into the fascinating potential of protein cages in chemistry.
Submissions to the journal should fit within the scope of Journal of Materials Chemistry B– Please see the journal website for more information on the journal's scope, standards, article types and author guidelines.
Submission Deadline: 1 February 2023
We strongly encourage you to submit an original research article. If you are interested in submitting a review-type article, please contact the Editorial Office in the first instance with a proposed title and abstract as initial approval is required before submission to limit the number of review-type articles and avoid potential topic overlap.
All submissions will undergo a rigorous initial Editorial assessment as to suitability for the journal before potential peer review. Please note that peer review and acceptance of your submission will not be guaranteed. All accepted articles will be added to the online web collection as soon as they are published and will be featured in the next available issue of Journal of Materials Chemistry B.
Manuscripts can be submitted here https://mc.manuscriptcentral.com/jmchemb
Please add a "note to the editor" in the submission form when you submit your manuscript to say that this is a submission for the themed collection. The Editorial Office and Guest Editors reserve the right to check suitability of submissions in relation to the scope of the collection and inclusion of accepted articles in the collection is not guaranteed.
We look forward to receiving your submissions for this collection!