In September 2022, ElectroChem 22, organised by the Royal Society of Chemistry's Electrochemistry and Electroanalytical Sensing Systems interest Groups, and the Society of Chemical Industry's Electrochemical Technology group, took place. Journal of Materials Chemistry C and Materials Advances were delighted to sponsor the poster prize.
We would like to congratulate the winner of the poster prize. Check out the award winner below: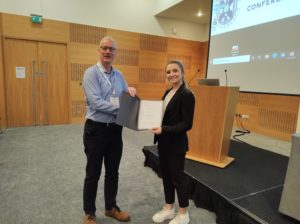 The winner, Joanne Searle (pictured right), with Neil Robertson our Journals of Materials Chemistry and Materials Advances Associate Editor.