We are honoured to introduce a special cross-journal collection of Journal of Materials Chemistry C and Sustainable Energy & Fuels in memoriam of Prof. Alasdair James Campbell.
Alasdair, or 'Al' as he was known to his colleagues, students and friends, was an exceptional scientist who made considerable impact in the fundamental research of state-of-the-art display technologies, printed photodetectors and transistors, neuromorphic computing and organic biomedical sensors. His work influenced the fields of materials chemistry, bioelectronics and materials science by providing the mechanistic understanding and methods to exploit underlying solid-state physics phenomena.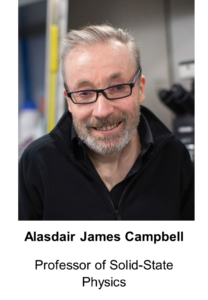 Guest Edited by Natalie Stingelin and Garry Rumbles, it is a great honour to highlight contributions from a number of Al's friends, students and colleagues that were at the core of Al's scientific activity, covering the fields where he had such impact: organic electronics (OLEDs, OFETs and photodetectors), charge transport in organic semiconductors, chiral optoelectronic materials, neuromorphic computing, and biomedical sensors based on organic materials, to celebrate Al's life and science. His friends, students and colleagues will forever remember Al's science, his kindness and his humour.
We hope you enjoy reading this collection of papers in Journal of Materials Chemistry C and Sustainable Energy & Fuels in honour of Prof. Al Campbell. All of the articles in the collection are free to access until 20 July 2022.