We invite you to read a new themed collection in Materials Advances on chiral nanomaterials.
We are pleased to inform you that this new themed issue has now been published online.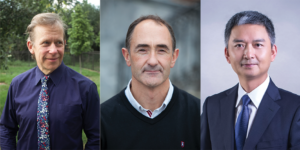 Guest Edited by Nicholas A. Kotov (University of Michigan, USA), Luis M. Liz-Marzán (CIC biomaGUNE, Spain), and Qiangbin Wang (SINANO, China).
Chiral nanostructures is one of the most rapidly developing research fields encompassing chemistry, physics, and biology. The rise to academic prominence of chiral nanostructures was fuelled by their giant optical activity and the fundamental structural parallels between biotic and abiotic structures with mirror asymmetry. This themed collection provides a snapshot of concepts being developed by a diverse spectrum of scientists around the world working in chiral nanostructures from metals, semiconductors and ceramics. Many fundamental discoveries in this area are expected that are likely to encompass multiscale chirality transfer, chiral surfaces, biological signalling, and circularly polarized emitters. Technological applications being pursued along the way of fundamental studies include biosensing, healthcare, chiral photonics, and sustainable catalysis.
Articles in the collection are published in Materials Advances and they are all freely accessible with open access. A small selection of articles from the collection are provided below.
Editorial
Chiral nanomaterials: evolving rapidly from concepts to applications, Nicholas A. Kotov, Luis M. Liz-Marzán and Qiangbin Wang, Mater. Adv., 2022, Advance Article DOI: 10.1039/D2MA90034C
Reviews and Perspectives
The significance of nanoparticle shape in chirality transfer to a surrounding nematic liquid crystal reporter medium, Anshul Sharma, Taizo Mori, Ahlam Nemati, Diana P. N. Gonçalves, Lara Querciagrossa, Claudio Zannoni and Torsten Hegmann, Mater. Adv., 2022, 3, 3346-3354 DOI: 10.1039/D2MA00093H
Chiral plasmonic nanostructures: recent advances in their synthesis and applications, Wenbing Wu and Matthias Pauly, Mater. Adv., 2022, 3, 186-215 DOI: 10.1039/D1MA00915J
Articles
Controlling the size and circular dichroism of chiral gold helicoids, Jeong Won Kim, Nam Heon Cho, Yae-Chan Lim, Sang Won Im, Jeong Hyun Han and Ki Tae Nam, Mater. Adv., 2021, 2, 6988-6995 DOI: 10.1039/D1MA00783A
Orientation dependence of optical activity in light scattering by nanoparticle clusters, Atefeh Fazel-Najafabadi and Baptiste Auguié, Mater. Adv., 2022, 3, 1547-1555 DOI: 10.1039/D1MA00869B
Competitive induction of circularly polarized luminescence of CdSe/ZnS quantum dots in a nucleotide–amino acid hydrogel, Xin Wen, Huahua Fan, Lihong Jing, Ming Deng, Xiaodan Huang, Tifeng Jiao, Li Zhang and Minghua Liu, Mater. Adv., 2022, 3, 682-688 DOI: 10.1039/D1MA00843A